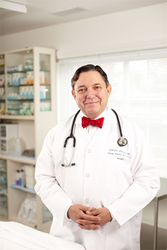 While Botox treatments are fantastic for minimizing wrinkles, the procedure is not a replacement for surgery. The results last for a much shorter duration and the full effect of surgery cannot be achieved with an injection alone
Chicago, IL (PRWEB) July 17, 2015
Dr. Anthony J. Geroulis, board-certified cosmetic surgeon, founder of North Shore Center for Facial Plastic & Cosmetic Surgery and University of Chicago clinical professor of surgery, has been operating for over thirty years. Throughout that time, Dr. Geroulis has performed countless facelift procedures, a surgical cosmetic procedure that has become one of his specialties, along with upper eyelid surgery and rhinoplasty procedures.
According to a 2014 study performed by the American Society of Plastic Surgeons and published in May 2015, over 128,000 facelift procedures were performed last year in the United State, placing it in the top 5 most popular cosmetic surgical procedures for the year. This figure, while quite impressive, is down nearly 4% from the year before. The same study listed Botox as the top minimally invasive procedure performed in 2014, with over 6.5 million performed in just one year. This procedure, performed to minimize wrinkles on the forehead, around the eyes and between the eyebrows, has grown 748% since the year 2000.
Dr. Geroulis, and many other surgeons, have noted this trend: "Many patients are opting for Botox treatments instead of a facelift or forehead lift," explains Dr. Geroulis. Botox is significantly less expensive and the recovery time is much shorter, but patients must return every few months to keep up the results. "While Botox treatments are fantastic for minimizing wrinkles, the procedure is not a replacement for surgery. The results last for a much shorter duration and the full effect of surgery cannot be achieved with an injection alone."
For more information about North Shore Center for Facial Plastic & Cosmetic Surgery, please call (866) 875-3937 or visit http://www.geroulis.com.
About Dr. Anthony J. Geroulis:
Bringing over 33 years of surgical and artistic experience to the field of facial plastic & cosmetic surgery, Anthony J. Geroulis, MD, FICS, has repeatedly been named a "Top Doctor" by U.S. News & World Report. Board certified in cosmetic surgery, author and active sculptor, Dr. Anthony Geroulis is a clinical professor of surgery at University of Chicago Medicine. His medical office is headquartered in Northfield, with offices in Chicago, at University of Chicago Medicine and at St. Alexius Medical Center in Hoffman Estates.