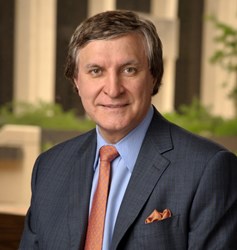 Dallas, Texas (PRWEB) October 02, 2013
Dr. Rod J. Rohrich, cosmetic facial surgery and rhinoplasty specialist, along with UT Southwestern plastic surgery faculty, will share information about cosmetic and aesthetic procedures with the public at a special Fall Cosmetic Surgery & Aesthetics Reception. The complimentary reception will be hosted by the UT Southwestern Department of Plastic Surgery on October 17th from 6:00 p.m. to 7:30 p.m. and held in the Outpatient Surgery Center, 1801 Inwood Road, Dallas, Texas.
At the event, UT Southwestern Medical Center plastic surgeons will cover basic information and new developments in cosmetic surgery and non-invasive aesthetic procedures. Participants will be able to see demonstrations of injectable treatments, such as Botox, ask questions of aestheticians, and review products showcased by industry representatives. Products discussed will include dermal fillers and injectables, such as Dysport and Botox, and other non-invasive treatments such as Cool Sculpting.
Topics covered during the event will include a range of surgical and non-surgical options, including eye rejuvenation (surgical blepharoplasty and non-surgical options), safe facelift alternatives, latest innovations in surgical facelifts and neck lifts, and options for arm lifts (brachioplasty). Discussions will also focus on the best "anti-aging" products for wrinkles, laugh lines, fine lines and dark spots.
Dr. Rohrich emphasizes to his patients the importance of knowing which cosmetic options are safe and effective before considering any procedure. "Whether you are looking at a surgical or non-surgical option, it's important to have a board certified plastic surgeon guide you through the process," he explained. "The presentations will help you gain knowledge so you can make the best decisions in partnership with your doctor for the long term."
Each attendee will receive a gift card for a complimentary cosmetic surgery consultation, and can enter a drawing for door prizes. There is no cost to attend The Fall Cosmetic Rejuvenation Reception but space is limited, so please RSVP by calling 214-645-3774 or emailing confirm(at)utsouthwestern(dot)edu. Each attendee is allowed to bring a guest.
This event is one of a series of events held several times a year by UT Southwestern plastic surgery faculty to educate and inform the public.
About Rod J. Rohrich, M.D., F.A.C.S.
Dr. Rod J. Rohrich holds the Betty and Warren Woodward Chair in Plastic and Reconstructive Surgery at UT Southwestern Medical Center. He also holds the UT Southwestern Medical Center Crystal Charity Ball Distinguished Chair in Plastic Surgery. Dr. Rohrich graduated from Baylor College of Medicine with high honors, and completed residencies at the University of Michigan Medical Center and fellowships at Massachusetts General Hospital/Harvard (hand/microsurgery) and Oxford University (pediatric plastic surgery). He has served as president of the American Society of Plastic Surgeons, the largest organization of board certified plastic surgeons in the world. He repeatedly has been selected by his peers as one of America's best doctors, and twice has received one of his profession's highest honors, the Plastic Surgery Educational Foundation Distinguished Service Award, which recognizes his contributions to education in plastic surgery. Dr. Rohrich participates in and has led numerous associations and councils for the advancement of plastic and reconstructive surgery. He is a native of North Dakota and is married to Dr. Diane Gibby, also a plastic surgeon. They live in Dallas with their two children.