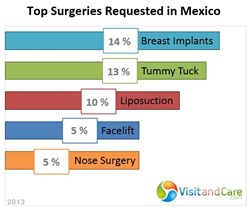 With VisitandCare.com, we have the right partner to see strong growth potential and keep our costs affordable.
Chicago, IL (PRWEB) January 27, 2014
Eagerly embracing medical tourists with immense discounts, Mexico has become a plastic surgery prodigy, with exclusive plastic surgeons inside the VisitandCare.com network providing reduced costs on popular procedures.
Patients want control of their plastic surgery endeavors without the complexity of managing multiple influences — and they want access to the most cost-effective options without limitations imposed by impractical healthcare insurance or rising surgery costs.
"Successful medical tourism strategies require striking a balance between limiting acceptance into your network, building on operating models that offer reduced costs, and providing these costs across global markets," stated Tolga Umar, CEO and Founder of VisitandCare.com.
Reducing Costs for Plastic Surgery —
An exclusive network of doctors in Mexico is providing patients with unparalleled flexibility, industry leading dependability, and the lowest costs for plastic surgery available today. With the incorporation of these exceptional aptitudes into the global scale of patients seeking plastic surgery, Mexico reinforces its position as the destination of choice.
VisitandCare.com, announced that its select group of plastic surgery clinics in Mexico has seen a 40 percent increase in patients in 2013 for their unmatched affordability across a wide range of plastic surgery treatments.
Founded by top plastic surgeons, Dr. Alejandro and Dr. Nashielli, Reveert Plastic Surgery Clinic in Guadalajara is an integral part of this increase.
"We chose to work with VisitandCare.com because of their ability to provide exceptional connectivity services for our plastic surgery solutions," stated Dr. Alejandro. "We strive to offer our customers the very best in accommodations, treatment management, travel planning and after-care services. With VisitandCare.com, we have the right partner to see strong growth potential and keep our costs affordable."
Fueling the Medical Tourism Industry —
For individuals who have decided to enrich their appearance through plastic surgery, the ultimate concern turns to costs, safety, and successful results. Board-certified plastic surgeons in Mexico are providing patients with the highest level of integrity and talent, and blazing surgical results to inspire one's confidence.
Drawing from masses of experience and volumes of research, plastic surgery clinics in Mexico are developing innovative surgical techniques to reduce recovery time, and ultimately lead to foreseeable outcomes for many procedures, such as breast implants, tummy tuck surgery, facelift procedures, nose surgery and liposuction.
"Rising healthcare costs in the US are causing patients to seek alternative solutions. At Reveert, we are offering astonishing alternatives that can be sensibly achieved with just one phone call. Partnering with VisitandCare.com allows us to offer plastic surgery at a fraction of the cost, in a recovery environment that is recognized as one of the most striking and exotic destinations in the world," stated Dr. Alejandro of Reveert.
Patients traveling to Mexico can save from 50 to 70 percent on a procedure, including travel expenses and accommodations, when compared to the costs in their own countries.
About VisitandCare.com
VisitandCare.com was created to give individuals worldwide valued direction locating a doctor, obtain free medical treatment quotes, and uncover affordable medical treatments at destinations of their choice. Improving Patients Lives |The company provides access to exclusive doctors and hospitals who specialize in infertility, plastic surgery, cosmetic dentistry, laser eye surgery, orthopedic surgery, hair transplantation, weight loss surgery, heart surgery and cancer care. Patients are matched with devoted multilingual patient facilitators and provided tangible connections to doctors worldwide.
Promoting Your Healthcare Brand | For the ultimate connection between the healthcare industry and patients worldwide, the company delivers an unrivaled commitment to create sustained value for medical partners. Contact VisitandCare.com to see if you are eligible to become a partner of the exclusive network.
PlasticSurgeryMexico.net | Plastic surgery in Mexico is being sought after by men and women of all ages. Leading plastic surgery clinics in Mexico provide first-rate care with the most focused detail in educating the patient on all treatment options, surgical risks and the process of rapid recovery in Mexico. Have a question? Ask a plastic surgeon.