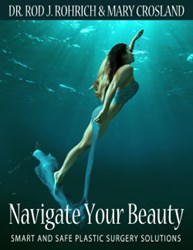 Mary Crosland and I wrote this book to show people exactly how to find the right surgeon, what to expect with each procedure, before, during, and after surgery, and how to have the most successful—and safest—outcome.
Dallas, Texas (PRWEB) January 14, 2014
A new eye-opening book entitled Navigate Your Beauty: Smart & Safe Plastic Surgery Solutions will soon be published. Its authors are one of America's most eminent plastic surgeons and medical professors, Dr. Rod Rohrich, and patient advocate Mary Crosland.
Because Dr. Rohrich has treated hundreds of patients who suffered from botched plastic surgery, he's written a priceless guide to educate patients in choosing the best possible surgeon for any plastic surgery procedure. Navigate Your Beauty shows plastic surgery candidates exactly how to find the right surgeons and maximize their chances for safe and successful outcomes.
"Patients often do not know how to find the right surgeon," Dr. Rohrich says. "They can be overwhelmed by the certificates on the wall, an attractive office, and not knowing the right questions to properly evaluate a surgeon. As a result, instead of enhancing one's appearance, plastic surgery by an unqualified practitioner can ruin a person's appearance or even cause catastrophic harm.
"Mary Crosland and I wrote this book to show people exactly how to find the right surgeon, what to expect with each procedure, before, during, and after surgery, and how to have the most successful—and safest—outcome."
Dr. Rohrich and Mary Crosland are the ideal authors for this book that will answer all the questions of those planning to undergo plastic surgery while providing them with a road map for choosing the best possible surgeons.
Rod J. Rohrich, M.D. is internationally known and respected not only as one of the finest plastic surgeons in North America, but also a world leader in performing safe and effective procedures and as an inspiring and highly knowledgeable educator in the field of Plastic Surgery. He is Professor and Chairman of the Department of Plastic Surgery at The University of Texas Southwestern Medical Center and Distinguished Teaching Professor. He is also the co–founder of the AIRS foundation (The Alliance For Reconstructive Surgery), which is dedicated not only to educating women about the options for breast cancer reconstruction, but also for providing funding for those women to get breast reconstruction after a mastectomy, especially if they cannot afford the procedure.
Mary Crosland is a savvy, talented business woman who owns a premier award-winning salon in Dallas, Texas. She is a dedicated advocate for women's health and safety. As a patient and a surgical-companion role model for many women in the U.S. who have undergone plastic surgery, Mary agreed with Dr. Rohrich that there is a crucial need for a guide for women (and men) to choose the best surgeon and what to expect from plastic surgery. Their book will help millions of women and men avoid many of the minefields associated with plastic surgery.
"This is the only book to truly navigate the consumer safely through the topic of plastic surgery that is co-authored by a doctor and a patient," stated Ms. Crosland. "I've read dozens of books on the subject and while doctors understand surgery from their perspectives, they don't one hundred percent 'get' the patient experience. In Navigate Your Beauty, I have endeavored to explain to readers what to expect when they choose to improve their appearances."
The book features what Dr. Rohrich and Crosland call the must ask "Three Magic Questions," which cover experience, expertise and exceptional results that all candidates for plastic surgery should know and understand when considering a surgeon for any procedure.
"Patients who ask the Three Magic Questions," says Dr. Rohrich, "will quickly discern whether they are in the right hands or not. Your appearance and health are far too valuable to entrust to someone who got a certificate in a weekend course and isn't qualified to operate on you. Also, different doctors are trained in different areas. You want a top professional in the specific procedure you are considering."
Navigate Your Beauty covers all aspects- from non-surgical to surgical procedures–from how to get the best real medical grade skin care to fillers, to know what to do to look your best at any and all stages in life. This is a must-have book to educate you and to keep you safe.
"Plastic surgery is just one of the ways we will show you how to improve your appearance, look your best in the job market, and enhance your self-image," Crosland says. "You've got to be fully informed, and that's what our book will do for you."
Navigate Your Beauty is for plastic surgery patients who want to be safe, informed, confident, and benefit and enjoy positive outcomes. It provides a clear, easy-to-follow roadmap for helping all of us be the very best we can possibly be!