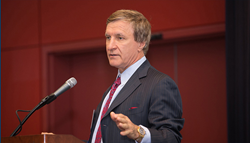 Dallas, Texas (PRWEB) September 28, 2017
Dallas plastic surgeon and renowned rhinoplasty specialist, Dr. Rod J. Rohrich, recently hosted a special edition of the Dallas Rhinoplasty Symposium course before the Brazilian Society of Plastic Surgery at the 36th Jornada Carioca de Cirurgia Plástica in Rio de Janeiro in Brazil. The course material is based on the Dallas Rhinoplasty Symposium, attended by rhinoplasty surgeons from around the world.
The Dallas Rhinoplasty Symposium is an annual educational meeting for rhinoplasty surgeons that covers a wide range of special topics in rhinoplasty surgery from how to analyze the nose and plan a primary rhinoplasty to the fundamentals of successful secondary or corrective rhinoplasty surgery. Presentations focus on the latest refinements in surgical technique to ensure safe and reproducible results.
Dr. Rohrich, who chairs the annual event in Dallas, is also the editor-in-chief of the course texts, Dallas Rhinoplasty: Nasal Surgery by the Masters, now in its 3rd edition. It is a compilation of the best techniques, insights, and lessons from the Symposium over the years and has contributions from some of the best rhinoplasty surgeons in the world.
In his talks and live video demonstrations, Dr. Rohrich emphasized the role of the open approach to rhinoplasty which allows surgeons to easily see the underlying nasal structures of the nose to correct and reshape them with much better precision. In turn, this allows surgeons to avoid the use of visible grafts which can compromise success rates and result in unnatural looking noses which are not well harmonized with a patient's facial features.
Dr. Rohrich, who has pioneered many of the techniques and technology used in open rhinoplasty today, describes rhinoplasty as one of the most difficult procedures in cosmetic surgery. "Rhinoplasty is a surgery of millimeters, it truly epitomizes plastic surgery as a whole because it is a surgery of such great finesse and takes years to master," says Dr. Rohrich. "It is one of the most difficult procedures in all of plastic surgery, but also one of the most rewarding."
This is the first time that the Dallas Rhinoplasty Symposium material has been presented internationally. Dr. Rohrich's presentation included panel discussions and Question/Answer sessions and unique, live rhinoplasty surgical demonstrations.
"Our goal is to teach rhinoplasty surgeons word wide that with the use of these new techniques and by using the open approach to rhinoplasty, we can dramatically reduce the revision or 'redo' rate in rhinoplasty," says Dr. Rohrich.
About Rod J. Rohrich, M.D., F.A.C.S.
Dr. Rod J. Rohrich is a board certified plastic surgeon in Dallas, Texas. He is a Distinguished Teaching Professor and Founding Chairman of the Department of Plastic Surgery at UT Southwestern Medical Center in Dallas, Texas. Dr. Rohrich graduated from Baylor College of Medicine with high honors, and completed his Plastic Surgery training at the University of Michigan Medical Center and fellowships at Massachusetts General Hospital/Harvard (hand/microsurgery) and Oxford University (pediatric plastic surgery). He is Chairman of the Dallas Rhinoplasty Symposium, Founding Chairman of the Dallas Cosmetic Symposium, President and Founding Member of the Alliance in Reconstructive Surgery, Editor in Chief of the Plastic and Reconstructive Surgery Journal, and a Founding Partner of the Dallas Plastic Surgery Institute.
Dr. Rohrich has also served as president of the American Society of Plastic Surgeons, the largest organization of board certified plastic surgeons in the world. He repeatedly has been selected by his peers as one of America's best doctors, and on three occasions has received one of his profession's highest honors, the Plastic Surgery Educational Foundation Distinguished Service Award, which recognizes his contributions to education in plastic surgery. Dr. Rohrich participates in and has led numerous associations and councils for the advancement of plastic and reconstructive surgery.