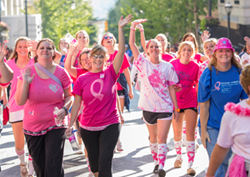 The fight against breast cancer is an important cause that our doctors passionately support.
TALLAHASSEE, FL (PRWEB) October 07, 2014
The American Cancer Society is bringing the fight to cure breast cancer to Leon County. Join other survivors and supporters at the Making Strides Against Breast Cancer walk at 1 p.m. on Oct. 19th at Cascade Park.
This non-competitive 5k is a wonderful opportunity to come together as a community to raise awareness about breast cancer, its health risks, and the recovery process. Join hundreds of others in taking the first step against breast cancer by registering for the Making Strides Against Breast Cancer Walk on Oct. 19th. Check in will begin at 9 a.m. on the day of the event. The first wave of 5k participants will begin walking promptly at 1 p.m. This event aims to bring financial assistance to those affected by breast cancer, and following the walk there will be a special celebration for survivors.
"The fight against breast cancer is an important cause that our doctors passionately support," said a representative of the Tallahassee Plastic Surgery Clinic. "One day, through continued efforts and by coming together as strong communities, we hope to see a cure."
If you are unable to walk but wish to be involved, event organizers are currently looking for volunteers to assist with registration, water stations, and provide information to attendees. Participants and volunteers may register in advance online by going to the Making Strides website. Individual and team registrations are available, and all walkers are encouraged to participate in fundraising before the event. Money raised will go towards the American Cancer Society to help that organization continue their research.
For information on plastic surgery and reconstructive procedures, the doctors at Tallahassee Plastic Surgery Clinic invite prospective patients to call (850) 877-2126, visit their state of the art facility at 2452 Mahan Drive #101 Tallahassee, FL 32308, or reach out online by going to http://www.tlhplasticsurgery.com/.
About Tallahassee Plastic Surgery Clinic
A leading plastic surgery clinic for Northern Florida & Southern Georgia since 1978, the Tallahassee Plastic Surgery Center skillfully balances science with the art of beauty. By offering customized procedures to meet the goals and needs of each patient, the clinic provides exceptional services in a safe and comfortable environment. All physicians are board certified by the American Board of Plastic Surgery, Inc., and they are assisted by a highly trained staff that is dedicated to providing outstanding service to every patient.