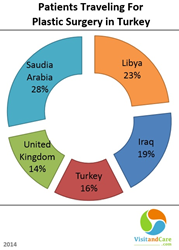 We are here to help improve the medical tourism industry, while sharing critical knowledge with some of the world's most respected names in plastic surgery.
Chicago, IL (PRWEB) March 11, 2014
There are few destinations in the world that fit the definition of 'affordable plastic surgery' quite as perfectly as Turkey. Elite plastic surgeons in the region have given medical tourism agency, VisitandCare.com, increasing recognition over the last year. The company has seen an 800 percent increase in plastic surgery patients to Turkey over the last year.
Turkey is home to some of the world's most progressive plastic surgeons — who are dominating the European and Middle-East markets with affordable, world-class plastic surgery treatments, including nose surgery, liposuction, and tummy tuck surgery, breast implants, facelift surgery, among others.
Of the Middle-Eastern countries, Turkey is the most medically advanced with Harvard and JCI accredited hospitals. Offering patients a balance of exquisite culture and medical affordability. It is a destination that allows you the chance to explore countless attractions, and engage in the pursuit of your own perfection.
Nothing Ordinary
VisitandCare.com has brought together an exclusive network of Turkish plastic surgery clinics that have developed an infrastructure to support the growing demand from the Arabic and European markets. The company chooses its partners with meticulous attention — and works closely with each clinic or hospital to ensure complete endurance of ethos in patient coordination and management.
Outlining the philosophy behind providing exclusive providers around the globe, CEO and Founder of VisitandCare.com, Tolga Umar stated, "The standards we demand of ourselves should be mirrored in our providers. If our partners don't have the same beliefs as VisitandCare.com, our patients are the ones who suffer. We are here to help improve the medical tourism industry, while sharing critical knowledge with some of the world's most respected names in plastic surgery."
The depth of European and Middle Eastern providers has long disappeared, with few survivors in an otherwise globally competitive marketplace. But there are notable exceptions — EsteWorld and NewAge Clinic in Turkey.
EsteWorld specializes in plastic surgery and hair transplantation procedures. Faceted as the only one of its kind in Europe, EsteWorld is a full encompassing plastic surgery hospital that pays close attention to every distinct detail. "At the head of our plastic surgery department is Prof. Dr. Murat Topalan. He is the Vice President of the Plastic, Reconstructive and Aesthetic Surgery Society of Turkey. Our plastic surgeons have at least 10 years' experience, and are joining important congresses in plastic surgery. Many of them have received their education in Europe and have quality recognition of European Board of Plastic Reconstructive and Aesthetic Surgery," stated Melike Işıklar, International Sales and Marketing Manager of EsteWorld.
NewAge Clinic has had a long and eminent history since its establishment — with premier services in plastic surgery, hair transplantation, liposuction, and facial treatments. Its extraordinary personal touch before surgery and continuing care throughout recovery helps the clinic make patients feel comfortable. "The clinic believes that the combination of experience and human to human approach is above everything," stated Taner Haskan, Chief Executive Officer of NewAge Clinic. The clinic concentrates on body-shaping surgery with high regard to its post-operative performance — and a shorter recovery period.
Discovery with a Human Touch —
VisitandCare.com understands that quality and creativity come thanks to the high-level partnerships they have formed with doctors, hospitals, and clinics in Turkey. The company is at a cultural crossroad in the medical tourism industry and that means working with different cultures, styles, and most importantly — expectations.
The company's partnered specialists continue to be favored localities as European and Arabic patients gravitate towards Turkey for its sustainability.
Plastic surgeons in Turkey focus on providing patients with meticulous attention to detail, individualized care, and exceptional surgical results, in a warm, welcoming environment. The artistic talent of each highly respected surgeon creates — natural, sensual results — and bespoke details that pleasure each patient.
About VisitandCare.com
VisitandCare.com was created to give individuals worldwide valued direction locating a doctor, obtain free medical treatment quotes, and uncover affordable medical treatments at destinations of their choice. Improving Patients Lives |The company provides access to exclusive doctors and hospitals who specialize in infertility, plastic surgery, cosmetic dentistry, laser eye surgery, orthopedic surgery, hair transplantation, weight loss surgery, heart surgery and cancer care. Patients are matched with devoted multilingual patient facilitators and provided tangible connections to doctors worldwide. Promoting Your Healthcare Brand | For the ultimate connection between the healthcare industry and patients worldwide, the company delivers an unrivaled commitment to create sustained value for medical partners. Contact VisitandCare.com to see if you are eligible to become a partner of the exclusive network.