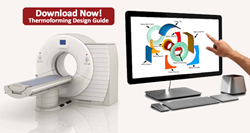 Mt. Laurel, NJ (PRWEB) June 19, 2014
Productive Plastics, a leading heavy gauge plastic thermoforming contract manufacturer, announces the release of its new Heavy Gauge Plastic Thermoforming Process and Design Guide for Pressure and Vacuum Forming Applications. This design guide is available to be downloaded in PDF format from the Productive Plastics website at http://www.productiveplastics.com/request-design-guide/ at no charge.
This design guide was developed to provide thermoforming design and process information for design engineers and anyone considering the use of heavy gauge plastic thermoforming for their products. Topics covered in this plastic thermoforming design guide include: vacuum forming (http://www.productiveplastics.com/vacuum-forming/) and pressure forming (http://www.productiveplastics.com/pressure-forming/)) processes, guidelines for determining if heavy gauge plastic thermoforming is the right process for the application, advantages and limitations of heavy gauge plastic thermoformed components/parts, forming tolerances and tooling specifications, design, technical, and cost considerations, material selection, and tips on choosing the right thermoforming company.
"This new heavy gauge thermoforming design guide has a wealth of information for thermoforming customers and prospects to help in their selection of plastic forming technology," said, Hal Gilham, Productive Plastics CEO. "The guide is a summary of the vast accumulated knowledge and experience gained over decades of providing plastic thermoforming services for our customers."
Thermoforming is the plastic production process that heats a two-dimensional rigid thermoplastic sheet and uses vacuum and/or pressure to form that sheet into a three-dimensional shape. Productive Plastics' core competency is in cut-sheet heavy gauge thermoforming with sheet materials ranging from .060 to .500 inches thick. Typical applications for heavy gauge thermoformed components include transportation (rail cars, buses, trucks), industrial equipment, medical diagnostics equipment, kiosks and many types of plastic enclosures.
About Productive Plastics
Headquartered in Mt. Laurel NJ and established in 1955, Productive Plastics offers thermoformed plastic components through pressure thermoforming and vacuum forming. Productive Plastics is a leading contract manufacturer of heavy gauged thermoformed parts for medical equipment, transportation, kiosk, industrial, and plastic enclosure markets. Productive Plastics is part of the Productive group of companies, which includes Sensigraphics, a custom manufacturer/supplier of membrane switches, graphic overlays, control panels, and keypads, and Productive Industrial Finishing, which provides industrial finishing solutions for spray and powder coating applications. For more information, please visit http://www.productiveplastics.com or call 856-778-4300.