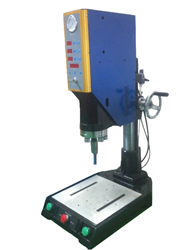 Melbourne, FL (PRWEB) December 12, 2013
Trinetics Group, Inc. announced the product release of its Series 3000, model TRI1500i, a 1500-watt table top ultrasonic plastic welding machine. The unit uses a 20 kHz transceiver and a frequency dials allowing for fine-tuned wave sound to the weld area. This feature permits ease of changeover and the need for keeping expensive multiple spare booster stacks.
The Series 3000 ultrasonic plastic welding machine is priced very competitively and can be financed for just over $300 per month with a $1 buyout. Leasing alternatives provide a finance solution for companies managing cash flow in equipment purchases.
Ultrasonic plastic welding is a high-frequency 20 kHz vibration that joins two similar or dissimilar materials with sound not heard by the human ear. It is used in plastic or metal welding applications such as heat staking, inserting metal objects into plastic, bag making, food sealing, packaging, medical devices, tools, toys, garments, appliance, electronic packaging, automotive and other industries. Ultrasonic welding can replaces harmful fumes or caustic chemical processes that use glue, solder or filler.
Trinetics Group designs and manufactures plastic and metal welding joining machines along with supportive lab efforts, engineered development solutions and follow-on production. Trinetics Group technologies include ultrasonic welding machines, hot platen contact or non-contact infrared welders, spin welders with wig-a-welding vibration and heat staking and inserting machines. Trinetics equipment is designed to operate manually, semi-automatic or completely automatic with standard or custom engineering design.
Trinetics Group is based in Melbourne, Florida and has been providing custom designed plastic and metal welding solutions for more than 30 years. Trinetics Group engineering design philosophy is to build made-to-last products with strict priority in operator safety, ease of use and maintenance and to train operators when required.
Trinetics Group has placed equipment in Fortune 1000 companies and small job shops and has a worldwide presence that includes the U.S.A., Canada, Mexico, the U.K., Germany, Egypt, Indonesia, Finland, Russia and others.
About the company:
For over 30 years, Trinetics has satisfied the plastic welding needs of both major corporations and small businesses throughout United States and abroad. Trinetics Group's Plastic & Metal welding systems are designed and build with the philosophy of providing the right equipment for the application. Allied Signal, HoneyWell, Dell Computer, Gateway Computer, IBM, Cuno, Whirlpool, Stanadyne, and General Electric are just a few who have benefited from their experience and expertise. Trinetics offers several lines of high-tech patented welding equipment, starting with standalone bench models to fully automatic assembly systems. They do ample research into prototyping product development prior to producing equipment.