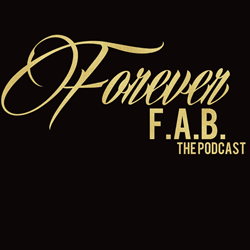 NEW YORK (PRWEB) April 22, 2020
Podcasts offer episodic series of the spoken word. Conveniently, they are portable, streaming, diverse, and often free. They are becoming increasingly popular, with Apple alone hosting over "500,00 podcasts and over 18 million episodes" (source: https://www.podcastinsights.com/podcast-statistics/).
The global pandemic has resulted in more people seeking information and entertainment in various forms. Podcasts have seen increased subscribers since more people are tuning in while staying home.
The Forever FAB podcast was created as an expression of one plastic surgeon's creativity.
Dr. Shirley Madhere, Founder of the Holistic Plastic Surgery philosophy, believed in the audio medium to help create more awareness around the need for a holistic approach in age management through plastic surgery and around the inter-connectedness of beauty, fashion and wellness. The podcast is dedicated, therefore, to Fashion, the Art of living well (or wellness), and Beauty, giving the podcast its capitalized acronym, F.A.B.
The Forever FAB podcast features various types of episodes, including guest interviews and product and experiential reviews (Fifteen Minutes of FAB). Most recently, Dr. Madhere created Prepped and Masked: How to Honor Your Temple in Good Times and in Times of Stress, a four-part mini-series to address health and wellness during the Covid-19 pandemic. The podcast has been live since March 2019 and is currently featured on numerous platforms, including Apple podcasts, Google Podcast, Spotify, YouTube, Podbean, Podbay, Chartable, Podtail,
Podparadise, Castbox, and iHeart Radio.
"Now, more than ever, it is essential for us all to understand that oneness is critical to our survival and success as humanity. From my perspective, having seen a disconnect between wellness and beauty, I created the Forever FAB podcast to emphasize that these seemingly distinct entities and industries all live along the same spectrum of holistic health. Similarly, fashion, too, is related to beauty; I consider it an aspect that is an inherent part of my well-being. My podcast creates a space where collaboration and possibility among these fields are in dialogue to help together make the world a more beautiful place."
Holistic Plastic Surgery is a philosophy created by Dr. Shirley Madhere to manifest that external appearance is a reflection of inner health. To help express that holism and diversity of her interests outside of her surgical practice, she launched the Forever FAB podcast as a creative outlet and as an homage to some of her passions. The podcast's format includes a variety of episodes, including interviews with industry experts in fashion, media, medicine, and beauty; product and wellness experiential reviews on "Fifteen Minutes of FAB;" educational series on plastic surgery and wellness topics; and the mini-series, "Prepped and Masked: How to Honor Your Temple in Good Times and in Times of Stress." Dr. Madhere has a NYC-based plastic surgery practice. However, in this time of social distancing, she remains committed to providing additional platforms for communication, education, beauty, health, and healing through her blog on ElementsandGraces.com, telemedicine, and the online e-consultation platform, Click-Lift.com.