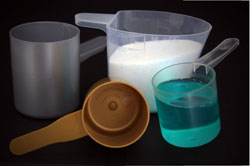 Claiming food-safety or FDA compliance does not substantiate that a company is being held to the highest standard.
Oswego, IL (PRWEB) February 03, 2017
Plastic scoop manufacturer HQC Incorporated has announced its extra measures to ensure its scoops are fully safe for use with food and beverage products, including dairy.
Because the safety of plastic scoops is a concern among distributors and consumers alike, HQC arranges the inspection of its U.S.-made materials by third-party auditors from NSF International. Several HQC customers schedule their own internal audits of the company's plastic scoop manufacturing as well. The independent customer audits include sending the scoops to external laboratories for analyzation.
"Claiming food-safety or FDA compliance does not substantiate that a company is being held to the highest standard," said HQC President Blair Pasternak."It often means they're following a generally understood set of guidelines without reinforcement by a third party.
"HQC's third-party audits by NSF and our customers guarantee the safety of both our plastic scoop materials and our production and quality systems. We also provide certificates of conformance that verify how the plastic scoops are made and what they're made from. The certificates combined with the audits become especially valuable in the event of a recall."
HQC has its employees audited by third-party inspectors as well.
"When one of our auditors or a customer's independent auditor comes to the facility, we have them speak to our off-shift employees," said Pasternak. "HQC plastic scoop manufacturing personnel must pass both written and verbal tests on food and beverage safety before they can work with the scoops."
HQC's food and beverage safety is likewise reinforced by its Safe Quality Food (SQF) Institute Level 3 certification, the institute's highest rating. SQF Level 3 identifies HQC as meeting the same safety requirements as a food or beverage packaging company's.
Two other credentials further fortify HQC's standing as a third party–verified manufacturer of safe products. HQC holds ISO 13485 certification for medical devices from a separate auditing firm; this authenticates medical-packaging safety and has lateral application to food and beverage packaging. HQC also is certified as a manufacturer of dispensing caps & closures and weld spouts for milk and milk products on the Interstate Milk Shippers List.
HQC Incorporated specializes in plastic scoops, custom molding, CT closures and pouch fitments for the food & beverage, personal care, medical devices and flexible-packaging markets. As creative problem-solvers, HQC serves companies looking to master manufacturing challenges through swift response times, innovative designs and functions, and prompt prototype turnarounds. For more information, please call (630) 820-5550 or visit http://www.hqcinc.com.