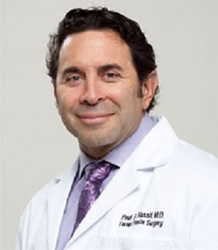 Beverly Hills, CA (PRWEB) March 23, 2015
Beverly Hills facial plastic surgeon, Dr. Paul Nassif, now offers patients many different treatments to improve facial aesthetics. Rather than focus primarily on rhinoplasty, the doctor is able to give patients more solutions to achieve total self-confidence in their outer appearance.
"Every surgeon has a specific area that they consider their individual specialty," Beverly Hills cheek lift surgery expert, Dr. Nassif said. "I want to help patients achieve their goals with an array of different procedures provided in my office."
Current services available under the care of the surgeon include:

Full facelift
Brow lift
Cheek lift
Neck lift
Lip enhancement
Nose job
Nassif is world-renowned, not only for perfected techniques, but also in regards to ensuring patient comfort and satisfaction. When a person decides to undergo a cosmetic surgery procedure, it is more often than not only a fraction of the work they truly desire. The ability to receive many different facial procedures in the same office makes the process more relaxed and simple. Shopping around, while inevitably risking treatment from an inexperienced doctor, creates more than a necessary amount of stress on the patient. Eliminating the likelihood of a botched surgery establishes confidence in a person that would otherwise hesitate to move forward achieving their aesthetic goals. Although the Beverly Hills nose job surgery expert built a reputation on rhinoplasty and revisions, the desire to excel in multiple areas has driven Dr. Nassif to pursue many different facial improvement methods.
"Happy patients with a brand new sense of self-esteem motivate me to be the doctor that I am today," Nassif stated. "My name has become synonymous with exceptional beautifying techniques, and I will always strive to continue improving, no matter how much the industry changes."
Undergoing multiple facial improvement surgeries in a combination treatment allows for reduced cost and recovery time for the patient. People are able to consolidate their time recuperating so that there is no need to miss work each time a treatment is performed. It is also possible avoid paying more than once for anesthesia and facility fees. This makes a full makeover more attainable and realistic for those that desire more than one augmentation.