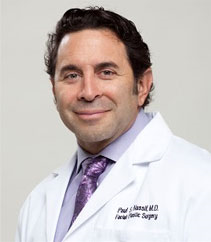 Beverly Hills, CA (PRWEB) October 19, 2015
Beverly Hills facial plastic surgery expert, Dr. Paul Nassif, speaks out in support of incorporating 3D printing technology into the field of cosmetic surgery. The technology has been used recently as a tool to provide a guideline for symmetrical reconstruction, specifically in patients that have a significant disfigurement. Surgeons use a series of CT scans to create a 3-dimensional model of the skull to restore the facial features trauma victims.
"The 3D prints that are created as the surgical model can help all plastic surgery patients feel a greater sense of confidence in their potential results. Whether a person is coming in for a reconstruction or rejuvenation, I can provide exceptional precision as a benefit of this technology," the facial plastic surgeon explained.
Surgical techniques are always advancing in ways that provide more satisfying results, including the following treatments that can be performed with the reference of a 3-dimensional model:

Brow lift
Lip enhancement
Neck lift
Cheek lift
Facelift
Eyelid lift
Rhinoplasty
Rhinoplasty revision
Doctors started using computer generated manipulations to give patients a preview of their results during the consultation appointment. This technology, coupled with parts created with a 3D printer, removes a significant part of the guesswork involved in treatment. This is exceptionally beneficial to trauma victims that often need a lot of complex work to improve their appearance. Gifted doctors can provide a decent result using their own freehand techniques, but using a model created from a picture of the patient is the best method available.
"I have always enjoyed working with reconstruction patients because it is incredibly satisfying to make such a big difference in their lives," Dr. Nassif, cheek lift surgeon in Beverly Hills, said. "It is an exciting time to work in the plastic surgery field with this type of advancement at our fingertips."
Dr. Paul Nassif is one of the most recognizable names in the world of reconstructive and plastic surgery. Not only has he experienced great success helping trauma victims restore their appearance, he is truly an artist when it comes to rejuvenations and augmentations. He has gained notoriety among patients, the media, and colleagues recognize his talent for providing ethnic, revision, and original rhinoplasty procedures.