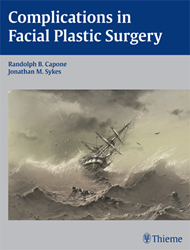 "This book is of great value to the practicing and beginning cosmetic surgeon and would be a valuable addition both as a reference and a source of regular review." -Dr. Harry Galoob
(PRWEB) April 03, 2014
With the publication of "Complications in Facial Plastic Surgery," edited by Dr. Randolph Capone of Baltimore and Dr. Jonathan Sykes of Sacramento, a new medical textbook explores in detail the processes by which adverse facial outcomes occur, what to do about them, and how to prevent them. The entire spectrum of contemporary plastic surgery of the face is included, with chapters from a score of notable U.S. physicians devoted both to cosmetic and reconstructive procedures, and even a chapter on non-surgical complications seen in the office setting. There are numerous color photographs that provide real-life examples not often seen in clinical practice, with pearls of wisdom that provide a concise summary at the end of each chapter.
Poor outcomes in plastic surgery are often shocking, especially when the surgical subject is the face. Pictures of "botched facelifts" and "overdone nose jobs" circulate in the tabloids and capture tremendous public attention. Until now, there has never been an entire text dedicated to this subject.
Given the increasing number of facial plastic surgery procedures performed in the USA annually, the new emphasis on outcomes in medicine, and the degree to which this topic resonates with the general public, it is likely that this first edition will be followed by more. The text is available through Thieme Medical Publishers and Amazon.
Dr. Capone is available for interviews on the subject of facial plastic surgery and its complications.
Contact Information:
Randolph Capone, MD, FACS
Assistant Professor, The Johns Hopkins School of Medicine
Drcapone(at)baltimorefaces(dot)com
http://www.baltimorefaces.com
410.828.4123