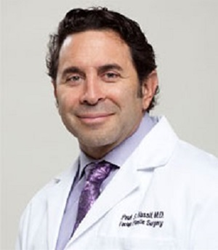 Beverly Hills, CA (PRWEB) April 27, 2016
Dr. Paul Nassif, Beverly Hills celebrity nose jobs expert, is commenting on the connection between social media and cosmetic surgery for patients of the millennial generation. Social media has become a major part of life for many people today, and this is especially true for millennials. Increased time spent on social networking sites means that millennials are frequently exposed not only to pictures of themselves and others, but also to popular and personal opinions. While these factors boost interest in getting plastic surgery, they also can affect expectations about what cosmetic procedures can do.
Millennials constantly see pictures of themselves and others on social media sites. In many cases, photos are also taken from unflattering angles, highlighting features that people might prefer to ignore. Faced with constant comparisons between images of themselves and others, many millennials seek plastic surgery to correct flaws that they perceive. At the same time, hurtful comments posted on these sites can make people feel pressured to change their appearance. Unfortunately, not every patient is a candidate for every procedure. The increased interest in plastic surgery requires plastic surgeons to be even more thorough when they discuss motivations and expectations with prospective patients.
A full range of treatments is available at the office of Dr. Nassif. Facial plastic surgeries of all types are provided, including facelift, otoplasty ear surgery, brow lift, and neck lift. Dr. Nassif is also a noted provider of double eyelid surgery in Beverly Hills. Treatments for the eyelids, including Asian eyelid surgery, eyelid lift, and double eyelid surgery, are also available. Patients can also visit Dr. Nassif for cheek lift, cheek augmentation, lip enhancement, and lip augmentation.
An expert in liquid facelift in Beverly Hills, Dr. Nassif has received extensive training in facial cosmetic treatments and reconstruction. Dr. Nassif is a reputable member of several organizations in his profession and is affiliated with Cedars Sinai Medical Center and Los Angeles County + University of Southern California Medical Center. Using the latest techniques and equipment, Dr. Nassif works to give patients amazing aesthetic results.