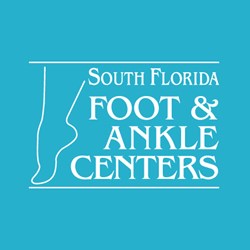 We are very excited about the promising future in platelet rich plasma therapy here in South Florida, and proud of the results we have seen so far helping athletes get back to doing what they love.
West Palm Beach, Florida (PRWEB) February 12, 2014
South Florida Foot & Ankle Centers' Dr. Jonathan Cutler performs this revolutionary new outpatient treatment that shortens recovery time, reduces pain injury, and allows patients to avoid foot surgery. Athletic foot injuries can keep professional and amateur athletes alike on the bench and prevent them from doing what they love. Platelet rich plasma treatment works by processing the patient's own blood into a white blood cell and plasma-rich healing solution. The combination of the white blood cells and plasma is then injected into the area where the injury is located.
Since this is a new and innovative treatment, in the past it has not been available in the U.S. Many professional athletes have made headlines traveling across the world to have this treatment done, but it is now available at South Florida Foot & Ankle Centers. South Floridians have fast access to the treatment that has helped professional athletes from football, basketball, baseball, soccer, golf, and tennis avoid surgery and return to their sport quickly. Some athletes even attribute the PRP injection therapy to allowing them to come back in time to win at the top level of their sport. The New York Times reported several such cases on February 16, 2009: Teammates Hines Ward and Troy Polamalu both had PRP before winning the Super Bowl; LA Dodger's pitcher Takashi Saito was able to return to the game for the postseason instead of resorting to elbow surgery that would have kept him out for at least the rest of the season. Tiger Woods and Kobe Bryant had the platelet rich therapy so that they could return to their respective sports quicker after injuries, according to an article in Men's Journal on October 28, 2013.
When asked about the success rate of PRP injections with his patients, Dr. Cutler explains, "We are very excited about the promising future in platelet rich plasma therapy here in South Florida, and proud of the results we have seen so far helping athletes get back to doing what they love."
PRP treatments are safe and non-invasive procedures that are done in our offices. There is no hospital time or downtime as with surgery. The plasma rich healing solution has up to 10 times more healing properties than just blood alone. It starts to work right away to reverse the damage to tendons and ligaments and heals sports injury in feet, knees, or other areas. There are a number of different sports injuries that can be healed faster with PRP treatments. Athletes at any level are known for playing hard, but that often comes with the risk of sports-related injuries. The feet, ankles, and knees are often the weaker points that become injured. Platelet rich plasma treatment is not just for sports injuries, it can also be used as a plantar fasciitis treatment, healing Achilles tendonitis, and as a foot injury treatment for various other chronic tendon injuries.
All athletes, whether they are professional players, college athletes, high school sports players, weekend warrior athletes, or even exercise buffs can get back in the game much sooner. Perhaps the faster healing abilities through platelet rich plasma treatment is most appealing to high school athletes, college athletes, their parents, and coaches. These young athletes have a short window of time to play during the season for each sport, which is also the only window to be seen by coaches at the next level of play. Getting back in the game faster and avoiding surgery is ideal for these athletes. Anyone with athletic foot injuries can benefit from this treatment because they can return to their game and active lifestyle quickly. It also eliminates the risk of further injury that can occur when playing in pain; plus they no longer have to play in pain.
About South Florida Foot & Ankle Centers
With podiatry centers located in Royal Palm Beach, Palm Beach Gardens, Lake Worth, Belle Glade, Port St. Lucie, and West Palm Beach, South Florida Foot & Ankle Centers serves to meet the needs of those with foot and ankle conditions. Revolutionary platelet rich plasma therapy is now available in South Florida. Our podiatrists will work with patients to understand their needs and provide optimal treatment for their foot and ankle issues. For more information, visit http://wcfoot.com or call 561-793-2700 to schedule a consultation today.