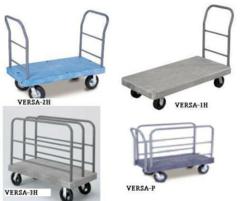 These Platform Carts are Among the Best Out There. Customers Will not be Disappointed.
Boston, Massachusetts (PRWEB) July 08, 2013
It never gets old to introduce new products to the A Plus Warehouse collection. This time the company is introducing Akro Versa Deck Platform Carts. These carts are an amazing value. A Plus Warehouse is confident that customers will be fully satisfied with this new product. According to Ed Stairman, president of A Plus Warehouse, "These platforms carts are among the best out there. Customers will not be disappointed."
This item falls under the companies' platform truck line. A Plus Warehouse platform trucks are made by only the best manufacturers such as Fairbanks, Akro Mill, RB Manufacturing, Durham Hodge Division, Hamilton and others. When ordering a platform truck from A Plus Warehouse, a customer can be confident that it is only the finest quality. A Plus Warehouse offers much variety with platforms trucks. The company has everything from wood platform trucks to stainless steel. Platform trucks can hold up to 2,500 pounds. This is far too much for a customer to lift. If a customer tries to lift a heavy amount, it could cause serious injuries. This is why platform trucks are a necessity in any business.
A Plus Warehouse is extremely excited to offer Akro Versa Deck Platform Carts. They are very easy to clean and resist many chemicals. This is a product that a company will have for many years and it will still look good as new. They also have an extremely high capacity of 1,000 pounds. The desks on these carts are available in a nice gay color. Customers also have many options for ordering Akro Versa Deck Platform Carts. These carts are available in 4 unique styles as shown in the picture to the right. Customers also have a choice of having carts preconfigured. This product is sure to be a high quality product with Akro-Mils as the manufacturer.
Akro-Mils is one of A Plus Warehouse's great manufactures. A Plus Warehouse offers Akro-Mil storage bins. This has always been a popular item. Many customers don't know that Akro-Mils also manufactures carts. Akro-Mils takes pride in offering a wide range of products. Akro-Mils is an industry leader in providing metal and plastic products for storage and organization purposes. A Plus Warehouse is proud to offer Akro-Mils products.
A Plus Warehouse is the operator of http://www.apluswhs.com and distributes materials handling and storage equipment nationwide and throughout Canada. The sales staff at A Plus Warehouse is available at 800-209-8798. A Plus Warehouse has been in constant operation since 1996.