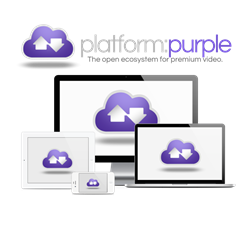 Video content producers, retailers and consumers need a universal solution to simplify the distribution of digital media up and down the value chain. Purple has developed the open platform the world needs as DVD and Blu Ray discs fade into history.
Los Angeles, CA (PRWEB) January 02, 2014
Platform Purple, Inc. ( http://platformpurple.com) announces the official launch of Purple, a global, internet-based media technology platform and business ecosystem for video product sales, subscription, rental and syndication open to all content producers, retailers, affiliates and connected consumers.
Purple is designed to be the eventual successor to the existing physical infrastructure of DVD and Blu Ray disc distribution as consumer video buying and viewing habits continue to shift from discs to digital downloads and cloud access.
Officially out of public beta stage today, Purple has passed the milestone of 1.4 million digital video product deliveries from a rapidly growing library of over 11,000 titles from numerous established video content publishers with near-perfect reliability.
"Ten years ago, life in the video product industry was simple," said Josh Mellicker, Purple founder and CEO. "All video producers, large and small, published on DVD. All retailers, large and small, could promote and sell whatever DVDs they liked, and consumers could keep all their DVDs on one shelf and play them all in one player. But so far, in the Digital Age, premium video has been a confusing and fragmented experience."
"Now, with Purple, life is simple again," said Mellicker.
Adding large video libraries to Purple costs content owners less than 1% of the typical cost of DVD or Blu Ray authoring and replication, providing product assets are provided in the specified format, according to the company, and there's no cost for adding single video titles.
"We hope to have most of the world's premium video titles, both entertainment and non-entertainment, available in Purple in the next few years," said Michelle van Broekhuizen, Purple founder and COO. "Purple is the only enterprise-class video platform that that offers both the scalability, industry-leading quality and reliability the world's largest publishers and retailers need, but is the best option for independent content creators as well. Purple offers both content publishers and promoters a fantastic ROI, so we can't imagine why anyone would not want to join Purple."
Whereas opening a physical video store requires a significant investment in leasing, inventory and personnel, Purple's innovative "purple:shopbuilder" enables retailers, website owners, affiliate marketers and entrepreneurs to create branded virtual video shops and stock them with their choice of video title categories from the Purple library in less than ten minutes, at no cost. And purple:shop owners typically make a higher profit on Purple digital video products than discs, when taking into account all the associated costs of physical goods.
"Purple:shops enable websites to promote relevant premium video content to visitors, adding a new, powerful dimension of revenue and traffic monetization to the Internet," said Stephen Searles, Platform Architect and Lead Web Engineer. "We are working hard to lay the groundwork for a lower friction, more profitable, internet-based global video product distribution network for the 21st century to take over as the physical video disc distribution infrastructure we have today crumbles."
"And with Purple being far more eco-friendly than physical disc manufacturing, replicating and shipping, and with billions of optical discs going into landfills, we hope the video industry and consumers decide to go green with Purple," quipped Searles.
The platform offers a comprehensive dashboard providing real time sales reports and analytics, desktop and mobile apps for secure downloading and offline viewing, a browser-based streaming player, and content protection vetted by a respected independent security firm.
Purple retains a small percentage of each transaction and covers all digital distribution expenses, including media cloud storage, bandwidth, platform development and end user support. There are no monthly fees or ongoing overhead costs for publishers or retailers.
And for video consumers, Purple offers the convenience of instant access to their entire video library on one virtual "shelf", on their smart TVs, tablets, laptops and smartphones, anytime, online or offline.
"One problem in the Digital Age has been the frustrating limitations of prevalent video delivery systems," said Grace Fioravanti, Purple CTO. "For example, some people are disappointed when they can't play videos purchased from Apple™ iTunes™ on their Android™ tablet or Sony Playstation™, watch a streaming-only subscription service like Netflix™ while traveling or offline, or download a video from Amazon™ onto their Apple laptops. Purple works perfectly in all these situations, and many more."
"Our unique hybrid technology, combining secure downloading and streaming, has enabled Purple to achieve a 99.4% perfect delivery and playback metric, closely rivaling VHS, DVD & Blu Ray reliability, and enables us to deliver flawless HD, 2K or 4K video playback to over a billion connected consumers globally, far ahead of any other digital video delivery system we know of," said Fioravanti.
Purple is capable of delivering customizable, highly interactive, more engaging media experiences for consumers due to its software-based, not movie file-based, product paradigm.
Platform Purple's expansion includes the addition of two digital media industry veterans, Steven Marder as Chairman and Bill Perrault as Chief Revenue Officer. Commented Mellicker, "Steven and Bill bring decades of deep industry relationships and experience to Platform Purple, Inc. in media & entertainment, finance, and business management. They complete the management team we need to properly position Purple as the successor to disc-based video formats."
Silicon Valley-based Steven Marder brings to the Purple team over 23 years executive, advisory, and investment experience in the global technology, media and communications sectors, from being co-founder and Director for SLI Systems, a member of the Board of Advisors for Aeria Games and AdMedia, former operating partner for Avista Capital, Director for portfolio companies WideOpenWest (WOW!) and InvestorPlace Media, Director/ Co-Founder/ CEO of Eurekster and a senior executive at EMI Music & Tribune. "Given the voracious appetite of consumers for digital video content, Purple fills a void for an open platform to enable video consumers to more easily buy, collect, subscribe to and consume premium digital video content anytime, anywhere and on any device. I'm thrilled to join the Purple team and invest my resources into helping realize the potential of this company and platform," said Marder.
Bill Perrault brings decades of experience in media and leading edge technology, from his years as CMO at Sony Pictures Home Entertainment, heading up sales & marketing operations at Tribune's & Philips Electronics new media enterprises, and as General Manager at Citadel Broadcasting, where Bill led the charge as to build the internet initiative for over 200 radio stations. Perrault commented, "The Purple team has developed the platform the world needs as DVD and Blu Ray discs fade into history. Content producers, retailers and consumers alike are searching for an universal solution that will simplify the distribution and consumption of digital media up and down the value chain. It's an exciting time to be part of the digital media industry, and an exciting time to be part of the Purple Revolution."
To date, Platform Purple is self-funded and 100% owned by founders, management and employees.
For more information on Platform Purple, Inc. visit http://www.platformpurple.com.
Press contact:
Josh Mellicker • josh(at)platformpurple(dot)com • 424-281-9808
Investor contact:
Steven Marder • steven(at)platformpurple(dot)com • 415-235-2821
Business contact:
Bill Perrault • bill(at)platformpurple(dot)com • 818-206-3242