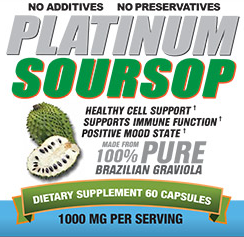 Get a Healthy and Clean Body Naturally.
Los Angeles,Ca (PRWEB) January 05, 2014
People who are looking for the most natural immune system and healthy cell support can end their search with Platinum Soursop, an extract made out of 100% pure and natural Brazilian Graviola extract. This extract is also known to put a person in a positive mood state after every intake.
Manufactured in the USA using GMP-certified facilities, every capsule of Platinum Soursop contains 500mg of pure Brazilian Graviola. Two capsules are needed every day to meet the 1000mg daily requirement to enjoy the maximum effect of the health supplement.
Click Here to Visit Official Website of Platinum Soursop
Graviola is widely known for its natural healing properties. For many years, it is believed to contain powerful ingredients that can help strengthen the body's natural defenses against many sickness and diseases. Graviola, which is commonly referred to as the Soursop, has a few other names such as Guanabana and the Brazilian Paw Pawis. The best kind can be obtained from the Amazon Rainforest in Brazil and some parts of North and South America.
Graviola is an edible fruit of an evergreen tree proven to be filled with massive bioactive phytonutrients. These nutrients work on both systematic and cellular levels, thus effectively penetrating the immune system improve to its functions, while allowing cells to recuperate. Although highly edible, the most therapeutic parts of a Graviola tree are found in its leaves, roots, bark, and seeds. Even the indigenous tribes of Amazon know about this fruit and have used it for years as a health supplement.
Platinum Soursop contains a good mix of Graviola leaves, stems, and fruits to provide the best results. Every bottle contains 60 potent capsules and each capsule contains 500mg of pure Graviola extract to help boost the body's defense system. A trial pack is offered to interested parties who'll rush an order today.
Click Here to Visit Official Website of Platinum Soursop
Try the Platinum Soursop risk-free for 90 days. It comes with a satisfaction guarantee wherein users can simply return empty containers within the allotted time for a full refund. This only shows how much manufacturers believe in the potency of their supplement.
Do take extra caution when buying Graviola supplements from other sources. As the health and marketing experts from Platinum Soursop says, "Not all Graviola supplements are created equal. Some may be using fillers, which makes the product not as pure as it should be. Ours contains only 100% pure grounded powders of Graviola fruit, stems, and leaves."
To know more about Platinum Soursop and how to obtain the trial packs, visit its official website at http://goo.gl/xtyjCU.