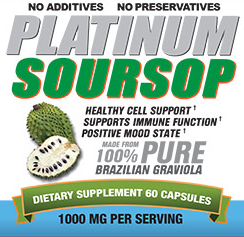 Los Angeles,Ca (PRWEB) February 21, 2014
Platinum Soursop is made out of 100% pure Brazilian Graviola. Guaranteed all-natural and effective, this supplement that is made in the USA is now offered in trial bottles, albeit only for a limited time. It also supports worldwide shipping as of writing, thus allowing users from around the globe to enjoy its health benefits.
Rush an order of Brazilian Graviola today and enjoy healthier cells, improved immunity, and a positive mood state. The trial bottles contain 100% Brazilian Graviola extracts in 500 mg capsules. These capsules are prepared and packaged in GMP Certified Facilities to assure their quality and effectiveness.
Click Here to Visit Official Website of Platinum Soursop
Graviola is also known as the Soursop or the Brazilian Paw Paw. As a herbal supplement, it was used by many of the South American indigenous tribes for the longest time as an herbal booster to the body's natural defense system. Its tree is not that big, standing only a maximum of 6 meters in height. Its large leaves, dark roots, and heart-shaped fruit are known to contain a wide array of bioactive phytonutrients that can penetrate and function right into body's cellular levels.
Several medical doctors and herbal experts believe in the power of Brazilian Graviola in strengthening the body and helping it fight off different diseases. The Platinum Soursop trial bottles contain 60 capsules of 500 mg pure Brazilian Graviola. They contain no additives and no preservatives, unlike most products.
Click Here to Visit Official Website of Platinum Soursop
The trial bottles are also offered with a money back guarantee. This means that all purchases will be covered by an RMA clause that allows users to return the product if they were not satisfied with it. The recommended dosage is two capsules one to two times a day, or as prescribed by a physician. A trial bottle is good for one month. Aside from the trial bottles, there are special packages with additional quantities of Platinum Soursop also offered.
To know more about the trial bottles of Platinum Soursop, its effects, and how to order, please visit http://goo.gl/nh92AX. Platinum Soursop is distributed by Pacific Naturals having office at 5879 Melrose Avenue, Los Angeles, CA 90038 USA.