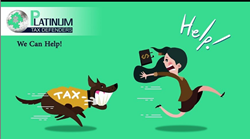 LOS ANGELES (PRWEB) December 24, 2019
Tax relief experts, Platinum Tax Defenders is reminding taxpayers of a new form the IRS released this year that applies to those taxpayers who have been involved in acquiring, selling, or exchanging cryptocurrency. Also, earlier this year, the IRS began sending letters to those taxpayers who have dealt with cryptocurrency but did not report it on their taxes that they will have to pay back taxes owed and file tax return amendments.
"Taxpayers must pay close attention when filing their taxes every year," said Sherri Gastelum, CEO of Platinum Tax Defenders. "The IRS often makes amendments to what is required and what deductions people can claim every year. For taxpayers who have dealt with cryptocurrency either in the prior year or several years ago, having a professional file your taxes could be beneficial. At Platinum Tax Defenders, we are currently offering free consultations to new customers, so come see us if you have a question on cryptocurrency."
The question regarding cryptocurrency that appears on the new Schedule 1 that the IRS released asks: "At any time during 2019, did you receive, sell, send, exchange or otherwise acquire any financial interest in any virtual currency?" This new addition is the IRS' latest effort in attempting to monitor taxpayers' virtual currency holdings.
This addition to the IRS' tax forms follows the agency's announcement back in July that it would begin sending letters to more than 10,000 taxpayers. The messages the IRS sent addressed those taxpayers with virtual currency transactions who did not report their cryptocurrency holdings on their taxes and therefore failed to report income and pay taxes owed.
How Do I Know If I Have To Report My Cryptocurrency Holdings?
Taxpayers who sold their cryptocurrency must report the transaction on their 2019 taxes. Also, taxpayers who obtained a capital gain from their cryptocurrency must pay appropriate taxes. Additionally, any cryptocurrency received from an employer is subject to federal income tax withholding, FICA tax, and federal unemployment taxes. The IRS also states that independent contractors who receive payment in virtual currency must pay self-employment taxes.
Taxpayers who fail to report cryptocurrency transactions accurately can end up with costly consequences. If you fail to report cryptocurrency earnings, the IRS may audit you and can hold you liable for penalties and interest. Additionally, in extreme cases, taxpayers could face prison time and a fine of up to $250,000 for not reporting income from virtual currency holdings.
For taxpayers who are worried they may owe back taxes from previous years or aren't sure how to report virtual currency holdings for the current year, Platinum Tax Defenders can help. The professional tax resolution team at Platinum Tax Defenders is made up of enrolled agents, tax attorneys, and certified public accountants who are ready to help with any of your tax needs. While the tax filing deadline is still two months away, Platinum Tax Defender encourages taxpayers not to wait until the last minute to file their taxes. For more information on Platinum Tax Defenders, visit http://www.platinumtaxdefenders.com.
About Platinum Tax Defenders
Platinum Tax Defenders is a tax resolution firm headquartered in Los Angeles that offers tax resolution and tax preparation services to both individuals and businesses. The experienced team at Platinum Tax Defenders has helped hundreds of taxpayers get the tax relief they need from the IRS. For individuals concerned about their taxes this year, especially as it relates to the new cryptocurrency rules, visit http://www.platinumtaxdefenders.com or call 866-866-8053 for a free consultation.