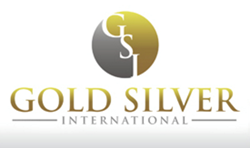 We are very much looking forward to the Platts Global Metals Awards this coming May and the opportunity to meet and mingle with our peers and hear some of the thoughts from the leaders in our industry
Calabasas, CA (PRWEB) March 30, 2016
GSI Exchange joins a prestigious list of executives and companies from 17 countries that have been selected as finalists for the fourth annual Platts Global Metals Awards, which recognizes exemplary accomplishments in the metals industry in 15 categories. Platts is the leading independent provider of information and benchmark prices for the commodities, metals and energy markets.
"We are honored to be recognized as a Finalist in the Rising Stars category," said David Stephens, who formerly worked within the Lloyds of London and the U.S. life insurance industry for over 15 years before joining GSI Exchange as Director of IRA Services in 2015. "This has been a year of tremendous growth for GSI Exchange and while combining my knowledge of insurance and precious metals, it is exciting to see particularly strong investor interest in gold and silver as financial insurance as part of a diversified retirement strategy."
A self-directed Individual Retirement Account (IRA) is an IRA held by a trustee or custodian that permits investment in a broader set of assets than is permitted by most IRA custodians. Most IRA custodians are banks and broker-dealers that limit the holdings in IRA accounts to firm-approved stocks, bonds, mutual funds and CDs. Custodians and trustees for self-directed IRAs, however, may allow investors to invest retirement funds in other types of assets such as gold, silver and platinum. For investors seeking greater control over their assets, an IRA LLC can purchase and take physical possession of IRA approved gold or silver.
During uncertain economic times, gold and other precious metals can be a very valuable asset to own. With a history of acting as a hedge against inflation and a declining dollar. In response to a variety of political and economic factors, gold is currently enjoying a very strong start to the year. As of Feb 29, gold registered 16.7% return, which is considerably above other asset classes. For example, the Total Bonds market is up only 2% and the S&P 500 Index is down 5.4% during the same time.
The performance of gold is sparking a surge of media attention and investor interest and is contributing to the enthusiasm preceding the upcoming awards ceremony.
The 2016 Platts Global Metals Awards will be presented at a black-tie gala attracting metals industry leaders from around the world on Thursday, May 19 at Marriott Grosvenor Square in London. The Global Metal Awards will be emceed by CNBC's Karen Tso, a popular television news correspondent best known for her coverage of the metals and mining sectors.
"We are very much looking forward to the Awards this coming May and the opportunity to meet and mingle with our peers and hear some of the thoughts from the leaders in our industry," says Stephens.
About GSI Exchange
Founded by industry veterans, GSI Exchange is a leading national coin and precious metals company specializing in wholesale precious metals trading as well as direct sales to the general public. The GSI Exchange investment management team has over 50 years of combined market experience and relationships with most of the biggest suppliers around the world.
With experience successfully placing more than $1 billion in commodities and precious metals transactions around the world, GSI Exchange offers clientele a full range of customized precious metals portfolios and physical precious metals Individual Retirement Accounts (IRAs).
GSI Exchange has an almost unlimited inventory of the highest-quality silver, gold, palladium and platinum coins at the most competitive prices.
For more information, visit https://gsiexchange.com/ or call 1.800.474.9159