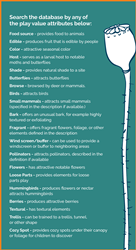 Wouldn't it be great to be able to plan and create site-appropriate landscaping around the play value of plants? Now you can!
CHATTANOOGA, Tenn. (PRWEB) September 23, 2019
Wouldn't it be great to be able to plan and create site-appropriate landscaping that extends play value with attributes like sound, shade, scent, loose parts for play, the ability to attract birds and butterflies, or a variety of other characteristics? Now you can!
Together with the Children & Nature Network, and the Natural Learning Initiative, College of Design, NC State University, PlayCore is pleased to introduce the Play Value Plant Database. The Database is an exciting resource utilizing an easy interface to help users find plants suited to their space and climate. In addition, filter by playful attributes to help create the kind of landscape that research shows, when combined with the built environment, can get children and families to higher use.
Here's how it works:
Log on to playcore.com/plants
Click the database link.
Search the database by plant requirements, attributes, and/or play value.
Add plants to your "Collection" to build your unique garden.
Download and print your collection.
Take your collection to a landscape architect, nursery, or plant expert to build your unique play and recreation space.
The natural world is an incredible wonder that inspires us all. Plants serve a wide variety of functions in play and recreation environments. They can provide imaginative props, engage a child's senses through texture, color, and fragrance, provide seasonal interest as they change through the seasons, as well as offer shade and shelter. Some plants can serve as screens to hide unsightly views or provide privacy, and as a habitat that provides a home for local fauna. Whether you are working to expand environmental education to develop a child's lifelong connection with the natural world in a green schoolyard, or simply trying to create a more meaningful outdoor family play and recreational space through the beauty of nature, we welcome you to explore, discover, and download your personalized plant collection. Now, planning a playful space with nature-rich experiences is easy.
About PlayCore
PlayCore is a purpose driven Company committed to building stronger communities around the world by advancing play and recreation. The company infuses scholarly learning, through its Center for Outreach, Research, and Education, into its comprehensive family of brands. PlayCore combines best-in-class educational programming with the most comprehensive portfolio of play and recreation products and services to create tailored solutions that match the unique needs of each community served.