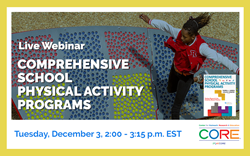 "CSPAP continues to gain momentum as the framework of choice for addressing the critical active play needs of today's youth," said Russ Carson, PhD, Research and Health & Wellness Advisor for PlayCore, "Come join us to learn about your role and how you can support CSPAP in your community."
CHATTANOOGA, Tenn. (PRWEB) November 15, 2019
PlayCore's Center for Outreach, Research & Education (CORE) will be hosting a complimentary webinar on comprehensive school physical activity programs (CSPAP) on December 3, 2019 at 2 p.m. EST.
Designed for school officials, landscape architects, architects, planners, and recreation and park professionals, this one-hour and 15-minute webinar will discuss the five components of the Comprehensive School Physical Activity Program (CSPAP) and the advanced evidence-based best practices, in addition to providing case studies that demonstrate opportunities for community collaborators. Authors of the new CSPAP handbook will take questions and lead insightful discussion.
A CSPAP is the guiding framework for implementing physical activity opportunities across the school day and school context. The goal of a CSPAP is to provide daily opportunities and support structures for youth to engage in and benefit from a physically active lifestyle. Regular health-enhancing physical activity behaviors among youth can be accomplished across five CSPAP components: 1) physical education, 2) physical activity during school, 3) physical activity before and after school, 4) staff involvement, and 5) family and community engagement.
"CSPAP continues to gain momentum as the framework of choice for addressing the critical active play needs of today's youth," said Russ Carson, PhD, Research and Health & Wellness Advisor for PlayCore, "Come join us to learn about your role and how you can support CSPAP in your community."
Educational resources, Certificate of Completion and CEUs for a total of 1 Professional Development Hours will be provided. Learners will receive .1 IACET / 1 LU AIA/ 1 PDH LA CES if they met the following requirements:
1. Be present for 95% of the duration of the learning event;
2. Participate in activities and discussion throughout;
3. Complete assessment with 80% mastery of learning outcome;
4. Complete feedback/evaluation survey.
Technological requirements for webinars will be shared through the confirmation email you will receive from GoToWebinar.
The instructor(s) of this learning event is/are employed by PlayCore and discloses interest in participants partnering with PlayCore on their play and recreation initiatives.
About PlayCore:
PlayCore is a purpose driven Company committed to building stronger communities around the world by advancing play and recreation. The company infuses scholarly learning, through its Center for Outreach, Research, and Education, into its comprehensive family of brands. PlayCore combines best-in-class educational programming with the most comprehensive portfolio of play and recreation products and services to create tailored solutions that match the unique needs of each community served. Learn more at http://www.playcore.com.