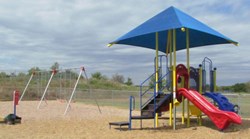 Durant, OK (PRWEB) October 31, 2013
The Believers Church, located at 303 North 49th in Durant, Oklahoma, recently purchased and installed brand new playground equipment. The new additions consisted of a commercial play structure named Shady Bay and a 2 Bay Bi-Pod Swing Set. The Shady Bay is designed for children ages 2-12, includes 8 play elements, and can accommodate up to 24 children playing at any given time. The posts are 3.5" in diameter, 12 gauge galvanized steel and powder coated for a high gloss finish. The plastic components are rotationally molded for superior strength and are UV stabilized to prevent fading. The children of The Believers Church will be proud of this new equipment for many years to come.
The Believers Church was found in 2010. Dr. Michael J. Bradley is currently the Pastor.
About American Parks Company
American Parks Company is a McKinney, Texas based company that provides commercial grade park and playground equipment primarily to municipalities, city parks, schools, churches, daycare facilities, and homeowner associations. Since 2004, American Parks Company has consistently provided high quality play structures at extremely affordable prices. American Parks Company is an industry leader in both the national sales and installation of commercial playground equipment. For general information on American Parks Company, please call 1-800-381-4491 or visit http://www.AmericanParksCompany.com.
For media inquires, contact Marc Parker, Vice President of Marketing and Operations: sm(at)americanparkscompany(dot)com.
Corporate Address: 225 E. Virginia Street McKinney, Texas 75069.