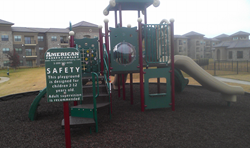 At Advenir at Mansfield, we've thought of everything - a resort-style pool, fabulous state of the art fitness center, Wi-Fi cafe, dog park and more...
Mansfield, TX (PRWEB) November 29, 2013
Advenir at Mansfield, known for its scenic views, spacious floor plans, and resort style atmosphere recently added brand new playground equipment to its long list awesome amenities. Advenir purchased a structure called Tiki Island from American Parks Company. The Tiki Island is designed for children ages 2-12 and can accommodate up to 38 kids. Because of the Tiki Islands incredible play value, and its large child capacity, the Tiki Island is one of American Parks Company's most popular playground structures.
The variety of slides at different levels and directions offers a great way to challenge a child and help build self-confidence. Three play panels, including one at ground level encourage active imaginations, while the rock climber and gradual platform height increases are a fantastic way to develop leg strength. The components of the Tiki Island are commercial grade and quality engineered to resist corrosion, fading and mildew. In addition, it is also designed in compliance with the public playground safety standards, ASTM and CPSC.
Advenir boasts spacious floor plans, custom features, and amazing property amenities. From the cabana-style pool to the brand new playground, Dolce Living Mansfield offers everything you need and more. Casual but elegant, simple yet sophisticated, Advenir offers gorgeous interior finishes to make apartment living the best decision you've ever made. Dolce Living Mansfield is the perfect community to call home. Its location has easy access to Hwy 360, Highway, I 35 and Highway 287. You will be minutes away from shopping centers and restaurants. Dolce Living Mansfield has everything you need and want to call home.
About American Parks Company
American Parks Company is a McKinney Texas based company that provides commercial grade park and playground equipment primarily to municipalities, city parks, schools, churches, daycare facilities, and homeowner associations. Since 2004, American Parks Company has consistently provided high quality play structures at extremely affordable prices. American Parks Company is an industry leader in both the national sales and installation of commercial playground equipment.
For general information on American Parks Company, please call 1-800-381-4491 or visit http://www.AmericanParksCompany.com.
For Media Inquiries, Contact:
Marc Parker
Vice President of Marketing and Operations
sm (at) americanparkscompany (dot) com