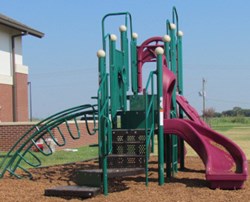 Norman, Oklahoma (PRWEB) September 27, 2013
In early September the Children of Bridgeview United Method Church located in Norman Oklahoma received yet another thing to be thankful for. New playground equipment designed for children ages 2-12 was recently purchased and installed at their new campus.
BUMC decided on a commercial play structure named Cherry Valley. Cherry Valley was a perfect fit for the churches needs. The structure offers a variety of play activates including 4 climbers, 2 slides, and 1 activity panel.
Bridgeview United Methodist Church was founded in 2000 and is actively growing. They offer a blended worship style, a very generationally diverse community, and a variety of small groups to help nurture you in life and faith.
Bridgeview is currently in the building process for Phase 1 of their future home on Indian Hills Road. Bridgeview broke ground June 3rd, 2012, and have recently moved in to the new building. There are still a few final details being worked on, but they are excited to be in their home. You can find out more about how you become a part of Bridgeview by exploring their website or by joining them for Worship Sundays at 9:30am & 10:30am.
About American Parks Company
American Parks Company is a McKinney Texas based company that provides commercial grade park and playground equipment primarily to municipalities, city parks, schools, churches, daycare facilities, and homeowner associations. Since 2004, American Parks Company has consistently provided high quality play structures at extremely affordable prices. American Parks Company is an industry leader in both the national sales and installation of commercial playground equipment. For general information on American Parks Company, please call 1-800-381-4491 or visit http://www.AmericanParksCompany.com.
For media inquires, contact Marc Parker – Vice President of Marketing and Operations – sm(at)americanparkscompany(dot)com.
Corporate Address: 225 E. Virginia Street McKinney, Texas 75069.