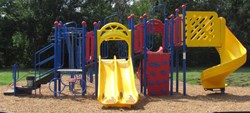 Earlsboro, Oklahoma (PRWEB) September 29, 2013
In early July, Earlsboro Public Schools located in Earlsboro Oklahoma purchased new playground equipment designed for children ages 5-12. In Late August the new structure was installed and is now ready for play.
Earlsboro Public Schools decided on a commercial play structure named Fairfield Bay. The Fairfield Bay was a perfect fit for the districts needs. The structure offers a variety of play activates including 4 climbers, 5 slides, and 2 overhead events.
Earlsboro Public Schools is located in eastern Pottawatomie County with approximately 250 students in Pre-Kindergarten through the 12th grade. Earlsboro Schools have been educating and mentoring young minds since 1914. Earlsboro is home of the world famous "Willie Stargell" inducted into the Baseball Hall of Fame in 1988. High School students have the opportunity to attend Gordon Cooper Technology Center or Seminole State College to enhance their educational experience. The home of the Wildcats provides all students an opportunity to participate in a wide range of activities in order to prepare for a life of success.
About American Parks Company
American Parks Company is a McKinney Texas based company that provides commercial grade park and playground equipment primarily to municipalities, city parks, schools, churches, daycare facilities, and homeowner associations. Since 2004, American Parks Company has consistently provided high quality play structures at extremely affordable prices. American Parks Company is an industry leader in both the national sales and installation of commercial playground equipment. For general information on American Parks Company, please call 1-800-381-4491 or visit http://www.AmericanParksCompany.com.
For media inquires, contact Marc Parker – Vice President of Marketing and Operations – sm(at)americanparkscompany(dot)com.
Corporate Address: 225 E. Virginia Street McKinney, Texas 75069.