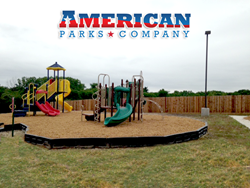 With so many fun group and independent play activities, Allegre Point Apartment Homes has further enhanced the recreational value of their community.
Chase City, Virginia (PRWEB) April 30, 2015
Allegre Point Apartment Homes is a fairly new community in Austin, Texas, which offers residents a true residential neighborhood feeling with all the features of a premiere lifestyle community. Luxurious urban apartment communities are the current trend, providing lavish outdoor landscape aesthetics, fitness opportunities, and much more. Allegre Point is one of those offering such quality apartment living with top notch lifestyle amenities, and now they have one more important amenity to offer their residents—a brand new playground with two commercial play structures.
American Parks Company was chosen by the apartment's management team to assist in the design and installation of a new outdoor playground for residents of Allegre Point Apartment Homes. The management team selected two popular commercial playground systems to enhance outdoor learning, fitness, and fun play opportunities for the children within their community.
The Crazy Crawl commercial play structure from American Parks Company features six unique activities to accommodate up to 35 children aged 5-12 years. The structure includes an exhilarating Hurricane Spiral Slide, which offers a fast – but safe – and exciting trip to the bottom of the structure.
The structure also has an Apex Climbing Attachment, which simulates a "rock wall" climbing experience, similar to indoor rock climbing activities that grown-ups engage in, but modified for children. There's also a Double Speedway Slide, which allows children to safely race friends to the bottom with a tandem slide design.
They Allegre Point team also selected the "Game On" play structure, which is also suited for children ages 5 to 12, and can accommodate up to as many as 25 kids. The design of this particular commercial playground allows children to choose from two exciting descents from the top deck. A Curved Speedway Slide creates a fun and fast turn that children enjoy, while the Single Speedway Slide is a faster, more direct trip to the bottom of the structure.
Three climbers make the structure fun to scale for children, including the challenging Coil Climber, a Loop Pole Climber, and an Arch Climber. The playground equipment of this play structure offers additional independent play and learning activities, including a Moon Phase Panel, Rain Wheel, and Whistle.
With so many fun group and independent play activities, Allegre Point Apartment Homes has further enhanced the recreational value of their community. Parks build neighborhoods and new friendships, and are the center of any successful residential community.
_____________________________
About American Parks Company
American Parks Company is a McKinney, Texas based company that provides commercial grade park and playground equipment primarily to multifamily housing communities, schools, churches, daycare facilities, and homeowner associations. Since 2004, American Parks Company has consistently provided high quality play structures at extremely affordable prices.
American Parks Company is an industry leader in both the national sales and installation of commercial playground equipment. For general information on American Parks Company, please call 1-800-381-4491 or visit http://www.AmericanParksCompany.com
For media inquiries contact Marc Parker – Vice President of Marketing sm(at)americanparkscompany.com.
Corporate Address: 225 E. Virginia Pkwy, Suite 1, McKinney, Texas 75069.