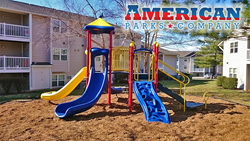 The structure looks fantastic! The guys from the installation team were great, very professional; they worked hard and it showed in the finished product.
Manassas, VA (PRWEB) May 20, 2015
The multifamily housing market is fierce, so one of the best ways to stay competitive is to offer plenty of quality amenities. Having a well developed outdoor space for children is a key selling feature for new residents; making the investment in outdoor recreation a solid one for property management companies. For Barrington Apartments, adding a new playground for children within the community meant that families would be motivated to enjoy the outdoor space in a meaningful way.
Located in Manassas, Virginia, the Barrington Apartments community features upscale luxury apartment homes with a variety of amenities to encourage families to live a healthy, active lifestyle. Residents can enjoy a fitness center, outdoor pool and tennis court, and now the children can enjoy commercial playground equipment provided by American Parks Company.
The property management selected the Magic Mountain play structure from American Parks Company. The playground equipment features a variety of play activities designed to accommodate as many as forty children ages two to twelve years old. These activities include four fun slides, an Apex Climbing Attachment, a Bubble Panel and more.
Plastic border timbers were installed, along with a wheelchair access ramp, to contain the engineered wood fiber safety surfacing material in compliance with playground safety regulations. This provides cushioning below fall zones to minimize the risk of injuries, but also promotes inclusive play opportunities for kids of all ability levels.
John Tierney, Maintenance Manager for the Barrington Square Improvement Association, said of American Parks Company, "The structure looks fantastic! The guys from the installation team were great, very professional; they worked hard and it showed in the finished product. Thank you again for delivering a great product and getting everything done so smoothly."
The apartment community will continue to enjoy their playground for years to come because of the commercial grade quality of the playground equipment that American Parks Company installed. The children of current and future residents alike will be thankful for the amount of fun the Magic Mountain play structure provides.
About American Parks Company
American Parks Company is a McKinney, Texas based company that provides commercial grade park and playground equipment primarily to multifamily apartment communities, schools, churches, daycare facilities, municipalities, and homeowner associations. Since 2004, American Parks Company has consistently provided high quality play structures at extremely affordable prices.
American Parks Company is an industry leader in both the national sales and installation of commercial playground equipment. For general information on American Parks Company, please call 1-800-381-4491 or visit http://www.AmericanParksCompany.com
For media inquiries contact Marc Parker – Vice President of Marketing sm(at)americanparkscompany.com.
Corporate Address: 225 E. Virginia Pkwy, Suite 1, McKinney, Texas 75069.