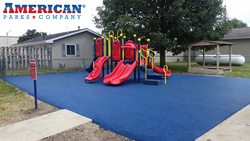 The kids are loving it and it looks great!!
Baxter, IA (PRWEB) September 11, 2015
Baxter is a small city with a population of about 1,100 and is located about thirty miles northeast of Des Moines. With its relatively remote location, the planners at Baxter Early Learning Center had few options to find assistance building the playground they were needing. They were able to find that help online in the form of American Parks Company, a nationwide supplier and installer of commercial playground equipment.
Baxter Early Learning Center's mission is to provide a nurturing and safe environment in which the programs are designed to foster each child's social, emotional, and intellectual growth. They provide a variety of childcare services, including daycare, preschool, before and after school programs, and summer programs.
American Parks Company helps hundreds of daycare centers nationwide each year purchase commercial playgrounds. So when the center reached out, they were easily able to recommend their "Rhyme 'n Reason" play structure. It is well-suited for their daycare's needs because it has been designed with children ages 2 to 12 in mind and is ADA accessible, which means that a child of any age and ability level that might come through their doors can enjoy the play structure. It can accommodated up to forty kids with its three slides, two climbers, playwheel, whistle, and leg lift activities.
It is made from commercial-grade materials, which means it will remain a long-lasting feature of the daycare center, but is also constructed to be safe. The poured-in-place rubber safety surfacing material that was installed with the playground structure is also designed to keep kids safe, and mitigate potential fall injuries from the structure's four foot deck height.
The activities included in the "Rhyme 'n Reason" were engineered to promote physical fitness, engage imaginations, and challenge children's developing bodies...all in the guise of simple playground fun. Baxter Early Learning Center's Director, Tiffany Finch, said the kids "are loving it and it looks great!!" She was also happy to know that the thought and care that went into the playground's design aligns perfectly with the center's mission to foster social, emotional, and intellectual growth.
About American Parks Company
Headquartered in McKinney, Texas (a suburb of Dallas) American Parks Company supplies and installs commercial playground equipment primarily to schools, churches, daycare facilities, apartment communities, municipalities, and homeowner associations. For more than 25 years American Parks Company has consistently provided high-quality play structures and site furnishings at extremely affordable prices.
American Parks Company is an industry leader in both the national sales and installation of commercial park and playground equipment. For general information on American Parks Company, please call 1-800-381-4491 or visit https://www.AmericanParksCompany.com.
For media inquiries contact Marc Parker – Vice President of Marketing sm(at)americanparkscompany(dot)com.
Corporate Address: 225 E. Virginia Street, Suite 1, McKinney, Texas 75069.