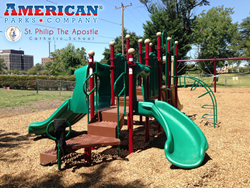 Principal Karen Robinson, M.Ed., said, "We are thankful [APC] worked with us to make our play space an exciting place for our students."
Camp Springs, MD (PRWEB) September 21, 2015
Before the 2015-2016 school year went underway, the staff at St. Philip the Apostle Catholic School saw a need in their playground. To ensure the students not only recieved a balanced education, but chances for fun and physical development at the private school, they reached out online to playground equipment supplier and installer American Parks Company. APC made sure that the new playground equipment was installed by the first day of school on August 31st.
Saint Philip the Apostle Catholic School is located in Camp Springs, Maryland, and opened on September 1960 with approximately 90 first and second grade students. Classes were originally held in LaReine High School, but construction of the current building begain in 1962 and was finished by 1964. The school is committed to instilling Christian virtues of honesty, courage, fairness, self-discipline and responsibility in every student. They work with parents to promote the development of the whole child in a faith-filled community.
American Parks Company is no stranger to the holistic approach to child development. Their commercial play structures are designed to challenge kids physically, mentally, and socially in a safe and fun way. APC helped the school select their "Rhyme 'n Reason" play structure, and also provided a two bay swing set, as well as engineered wood fiber safety surfacing material.
The playground equipment that makes up the "Rhyme 'n Reason" play structure features three different types of slide experiences, including a double slide to promote social play via competition, three challenging climbing activities, an imaginative play inspiring panel mounted playwheel, a slide whistle, and leg lift handle. The structure is ADA accessible to promote inclusive play, and is designed to accommodate forty children ages 2 to 12 years old.
The classic playground activities, like the slides and swings, coupled with the modern activities in the climbers and panels, make the school's new playground an ideal outdoor area for continued child development. Principal Karen Robinson, M.Ed., said, "We are thankful [APC] worked with us to make our play space an exciting place for our students."
About American Parks Company
Headquartered in McKinney, Texas (a suburb of Dallas) American Parks Company supplies and installs commercial playground equipment primarily to schools, churches, daycare facilities, apartment communities, municipalities, and homeowner associations. For more than 25 years American Parks Company has consistently provided high-quality play structures and site furnishings at extremely affordable prices.
American Parks Company is an industry leader in both the national sales and installation of commercial park and playground equipment. For general information on American Parks Company, please call 1-800-381-4491 or visit https://www.AmericanParksCompany.com.
For media inquiries contact Marc Parker – Vice President of Marketing sm(at)americanparkscompany(dot)com.
Corporate Address: 225 E. Virginia Street, Suite 1, McKinney, Texas 75069.