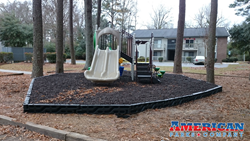 Residents now have a fun and safe area to enjoy the outdoors that will last for many years to come.
Plymouth, North Carolina (PRWEB) March 07, 2016
American Parks Company facilitated the purchase and installation of a new playground for the Woodview Apartment Community.
The Woodview Apartments, situated in Plymouth, North Carolina, have added value to their property and a new amenity for residents with the purchase of a playground from American Parks Company. The apartment's management personnel chose the Good Catch structure in a natural color scheme that blends in perfectly among the piney landscape.
American Parks Company's professional installation team constructed the new play area from the ground up. The Good Catch playground structure features interactive components that will keep the children of this community engaged and active, including three ground-level musical play components, a Window play panel, and a Bench panel. The playground was completed with mocha brown rubber mulch for a safety-compliant surface, as well as border timbers. To top it off, a new park bench serves as a comfortable place for visitors to sit and enjoy the earthy aesthetic of Woodview's new playground.
The installation crew as well as the office staff were able to produce high standard results for the Woodview Apartment community, and the Woodview staff reported that they were fully satisfied with the work of American Parks Company's team. Residents now have a fun and safe area to enjoy the outdoors that will last for many years to come.
About American Parks Company
Headquartered in McKinney, Texas (a suburb of Dallas) American Parks Company supplies and installs commercial playground equipment primarily to schools, churches, daycare facilities, apartment communities, municipalities, and homeowner associations. For more than 25 years American Parks Company has consistently provided high-quality play structures and site furnishings at extremely affordable prices.
American Parks Company is an industry leader in both the national sales and installation of commercial park and playground equipment. For general information on American Parks Company, please call 1-800-381-4491 or visit https://www.AmericanParksCompany.com.
For media inquiries contact Marc Parker – Vice President of Marketing sm(at)americanparkscompany(dot)com.
Corporate Address: 225 E. Virginia Street, Suite 1, McKinney, Texas 75069.