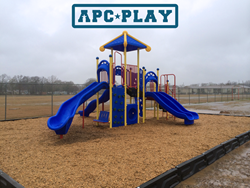 The school punctuates civic, ethical and moral responsibility in its students while providing a harmonious and engaging learning community for kids.
Shreveport, Louisiana (PRWEB) March 31, 2015
Giving kids the best start in their academic career and in life – that's the mission behind quality elementary schools like the Linwood Public Charter School, who serves the diverse cultural population in Shreveport, Louisiana. The school punctuates civic, ethical, and moral responsibility in its students while providing a harmonious and engaging learning community for kids. With the addition of its new playground, thanks to the help of APCPLAY, the students have even more to engage with, namely fun.
The Linwood Public Charter School has earned a prestigious reputation for their curriculum and the academic performance of its students. SABIS® public charter schools are ranked in the top 10% in the United States with 100% of students accepted into college programs. The strong academic performance of the students at Linwood is also balanced with a healthy program that emphasizes physical fitness and athletic excellence. The new playground is just another opportunity to remain fit and healthy.
APCPLAY's 'Cayman Islands' commercial play structure features an exciting Chute Slide with a slight curve that provides the exhilaration children love in a good playground slide. The Bubble Wall Climber is visually engaging and provides a fun climb to an upper deck. The Wave Slide is designed to provide an up-and-down wavy ride, while the Triple Rail Slide allows children to race a friend down (safely) to the bottom of the playground structure.
A large 68" roof helps provide temporary relief from the sun and reduces UV exposure for children at play. The Below Deck Bench gives children a quiet, cool and comfortable place to sit and rest while watching friends clamor below the deck through the Crawl Tunnel or other features.
Spring is here, and the children of Linwood Public Charter School will no doubt be out and enjoying their new playground. And, because of the commercial quality of the playground equipment APCPLAY provides, the children of the area will have years of new adventures on the Cayman Islands play structure to come.
About APCPLAY
APCPLAY is based in McKinney, a suburb north of Dallas, Texas, and is a nationwide provider and installer of commercial playground equipment. They serve schools, churches, daycare facilities, homeowner associations, municipalities, and multifamily communities with high-quality, long-lasting play structures, site furnishings, athletic equipment, and pre-fabricated shades and shelters, along with turn-key installation services.
APCPLAY has over 25 years of experience offering planning services, custom design, and an extensive array of park and playground products. They're committed to top-notch customer service and complete purchase satisfaction.
For general information on APCPLAY, please call 1-888-401-6446 or visit http://www.apcplay.com