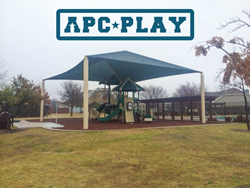 Westridge HOA is located in the thriving community of McKinney Texas. McKinney was voted as the #2 Best Place to Live in the United States by Money Magazine.
McKinney, TX (PRWEB) May 01, 2015
Knowing that it takes a quality outdoor park and playground to make a housing development feel more like a neighborhood, the homeowner's association of Westridge decided to invest in one for their residents. They contacted APCPLAY to assist with the expansion of the community's outdoor play space and who provided them with their new commercial playground equipment.
Westridge HOA is located in the thriving community of McKinney, Texas. McKinney was voted as the '#2 Best Place to Live in the United States' by Money Magazine, and offers all the amenities of city life in a more quaint, small town atmosphere. Westridge is a mater planned community offering anything from condominiums to single family homes, and it is situated around the Westridge Golf Course. In addition to the brand new playground at its community park, Westridge also boasts hike and bike trails.
The HOA team selected APCPLAY's Mountain View play structure for their community park. They also elected to install a large pre-fabricated structural shade with majestic hexagon roofs which help to moderate playground surface temperatures and reduce UV exposure for children at play.
There are a number of innovative play experiences that make the Mountain View unique. In terms of fun, the playground provides an exhilarating Open Spiral Slide, a Chute Slide, a 90° Curve Slide, a Wave Slide, and Two Double Wall Slides. The children of Westridge will love the traditional fun of the Tire Climber and the Mountain View playground provides a number of innovative panels for learning about natural science and for exploring imaginative group or independent play. There is even a Below Deck Seat for kids to rest and repose.
With summer just around the corner, the children and families at Westridge HOA in McKinney, Texas will appreciate new and fun activities to help them spend more time offline and outdoors!
About APCPLAY
APCPLAY is based in McKinney, a suburb north of Dallas, Texas, and is a nationwide provider and installer of commercial playground equipment. They serve schools, churches, daycare facilities, homeowner associations, municipalities, and community parks with high-quality, long-lasting play structures, site furnishings, athletic equipment, and pre-fab shades and shelters, along with turn-key installation.
APCPLAY has over 25 years of experience offering planning services, custom design, and an extensive array of park and playground products. They're committed to top-notch customer service and complete purchase satisfaction.
For general information on APCPLAY, please call 1-888-401-6446 or visit http://www.apcplay.com