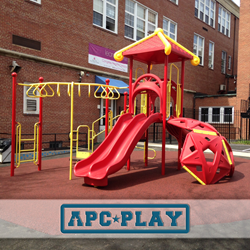 Teachers and parents alike appreciate the additional physical and social benefits the new play structure from APCPLAY provides.
Washington, D.C. (PRWEB) June 25, 2015
Center City Public Charter Schools has six campuses in the Washington, DC area, and the Congress Height Campus just teamed with APCPLAY to provide new commercial playground equipment to its students. The schools' mission is to ensure that every student is academically and socially prepared to attend the high school of their choice, and is college- and career-ready. The new playground will most certainly help to supplement their social and cognitive development, while also affording them fun and fitness opportunities.
The Congress Heights Campus's staff worked with APCPLAY to select their "Riviera" commercial play structure. It is designed to entertain as many as 26 children ages 5 to 12 years old at one time. It features three different styles of climbing activity: Pent Climber, 90° Tri-Rung Horizontal Ladder overhead Climber, and Tree Climber. Each climber is designed to challenge children physically in various ways. The overhead climber builds upper body strength, the Tree Climber engages the lower body muscles, while the Pent Climber develops both upper and lower body as well as balance.
The Riviera play structure also features two fun and exciting slides for classic playground fun. The Chute Slide provides a fast trip to the bottom, while the Wave Slide provides a unique dip that alters the velocity. The playground also includes a Post-Mounted Steering Wheel that promotes imagination and independent play. The structure is covered by a large plastic roof that provides partial UV protection during the sunnier seasons.
Teachers and parents alike appreciate the additional physical and social benefits the new play structure from APCPLAY provides. With the purchase and installation of the new playground equipment, Center City Public Charter Schools proven its commitment to empower students for lifelong success.
About APCPLAY
APCPLAY is based in McKinney, a suburb north of Dallas, Texas, and is a nationwide provider and installer of commercial playground equipment. They serve schools, churches, daycare facilities, homeowner associations, municipalities, and apartment communities with high-quality, long-lasting commercial play structures, site furnishings, athletic equipment, and pre-fab shades and shelters, along with turn-key installation.
APCPLAY has over 25 years of experience offering planning services, custom design, and an extensive array of park and playground products. They're committed to top-notch customer service and complete purchase satisfaction.
For general information on APCPLAY, please call 1-888-401-6446 or visit http://www.apcplay.com
For media inquires, contact Marc Parker – Vice President of Marketing and Operations – sm(at)apcplay(dot)com.
Mailing Address: 225 E. Virginia Street, Suite 2, McKinney, Texas 75069.