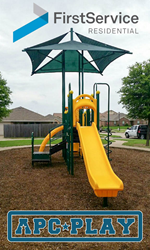 The Tower Power commercial play structure is a perfect match to DeSoto Ranch's needs and concerns for the neighborhood children.
DeSoto, TX (PRWEB) July 28, 2015
First Service Residential, the homeowner's association management group for DeSoto Ranch in North Texas, recently chose APCPLAY to provide them with new commercial playground equipment for their community park.
The DeSoto Ranch neighborhood is a suburb of the Dallas-Fort Worth Metroplex, and consists of about 250 lots populated by families, professionals, and retirees. They employ First Service Residential to assist with HOA management solutions (accounting, collections, dues), contracting vendors, and providing general maintenance. First Service Residential selected APCPLAY because of its outstanding customer service, product selection, and professional installation services.
APCPLAY helped the HOA remove and disopose of their outdated existing playground equipment, and select their "Tower Power" commercial play structure. The Tower Power commercial play structure is a perfect match to DeSoto Ranch's needs and concerns for the neighborhood children.
The playground is large enough to accommodate as many as 30 children ages 2 to 12 years-old simultaneously. The structure features a good blend of activities that engage children on a physical, mental, and social level. But, most importantly, it is super-fun and healthy.
Best of all, and because of the hot Texas summers, APCPLAY made sure to help the HOA pick a commercial playground with included shade elements. The play structure boasts two large plastic roofs that mitigate the surface temperature of the playground equipment, and reduces UV exposure.
First Service Residential, APCPLAY, DeSoto Ranch HOA, and especially the children of the North Texas suburb are extremely pleased with the results of the new playground installation.
About APCPLAY
APCPLAY is based in McKinney, a suburb north of Dallas, Texas, and is a nationwide provider and installer of commercial playground equipment. They serve schools, churches, daycare facilities, homeowner associations, municipalities, and apartment communities with high-quality, long-lasting commercial play structures, site furnishings, athletic equipment, and pre-fab shades and shelters, along with turn-key installation.
APCPLAY has over 25 years of experience offering planning services, custom design, and an extensive array of park and playground products. They're committed to top-notch customer service and complete purchase satisfaction.
For general information on APCPLAY, please call 1-888-401-6446 or visit http://www.apcplay.com
For media inquires, contact Marc Parker – Vice President of Marketing and Operations – sm(at)apcplay(dot)com.
Mailing Address: 225 E. Virginia Street, Suite 2, McKinney, Texas 75069.