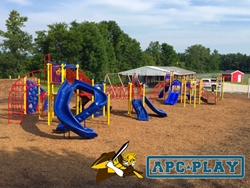 When the kids got on the playground that the PTO had been saving for for five years, you couldn't imagine the happiness of the scene.
Ostrander, OH (PRWEB) August 27, 2015
The PTO for the school district of Buckeye Valley in Ohio had been planning to upgrade their playground facilities and saved for five years before they finally found a playground equipment supplier in APCPLAY. The knowledge and installation expertise that they were able to provide made the resulting playground at Buckeye Valley West Elementary School campus a success. They celebrated with a ribbon cutting ceremony to open the new playground on Monday evening, August 10, 2015.
The Buckeye Valley Independent School District is home to four schools, including: two elementary schools, a middle and high school, and span from the cities of Ashley, Delawre, to Ostrander (all areas north of the capital in Columbus). The District is is committed to creating a culture of excellence that supports and encourages academic and personal growth of their students and staff. They provide numerous resources online and offline to keep parents and the entire community involved. That is why they kept the playground project open to the community; it is not just a school playground, but one for all children to play on.
With the help of APCPLAY, the school chose two large commercial play structures designed for school-aged children 5 to 12 years old, named the "Goliath" and "Walnut Ridge," as well as a three bay swing set. The district also purchased both regular and adaptive swing seats—for children with mobility issues. Both the structures and the swing set provide inclusive play opportunities because they are ADA accessible.
The "Goliath" has the ability to entertain up to eighty children simultaneously. It houses nineteen activities which feature five slides (including the impressive Dueling Criss-Cross Landslide), eight climbers, and three activity panels. These activities are engineered to provide fun, fitness challenges, outdoor learning and imaginative play opportunities.
The "Walnut Ridge" is home to nine activities to accommodate up to 26 children. It features four slides, four climbers, a Fireman's Pole, and an exciting Track Ride. The deck height on this play structure are a little lower than the Goliath so that children can develop confidence performing these climbing challenges and work their way up to the more intimidating ones.
Parents and P.E. teachers alike are already so happy to have all of the physically demanding and socially engaging activities the play structures offer available in their community. Chuck Wellenberger, Executive Vice President of APCPLAY, was in attendance at the playground's ribbon cutting ceremony and noted, "When the kids got on the playground that the PTO had been saving for for five years, you couldn't imagine the happiness of the scene." The school playground equipment APCPLAY provided to the Buckeye Valley District will continue to be a neighborhood hotspot and place for students and families to gather for fun and entertainment for years to come.
About APCPLAY
APCPLAY is based in McKinney, Texas—a suburb north of Dallas—and is a nationwide provider and installer of commercial playground equipment. They serve schools, churches, daycare facilities, homeowner associations, municipalities, and community parks with high-quality, long-lasting play structures, site furnishings, athletic equipment, and pre-fab shades and shelters, along with turn-key installation. APCPLAY has over 25 years experience offering planning services, custom design, and an extensive array of park and playground products. They're committed to top-notch customer service and complete purchase satisfaction.
For general information on APCPLAY, please call 1-888-401-6446 or visit http://www.apcplay.com.
For media inquires, contact Marc Parker – Vice President of Marketing and Operations – sm(at)apcplay(dot)com.
Mailing Address: 225 E. Virginia Street, Suite 2, McKinney, Texas 75069.