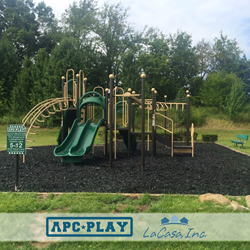 Thanks to the help of APCPLAY and La Casa, the children of Arbor Ridge can now enjoy the outdoors and their fun new playground.
Goshen, IN (PRWEB) September 15, 2015
Looking to improve their facilities in Goshen, Indiana, La Casa, Inc. contacted the playground professionals at APCPLAY to coordinate a new playground for their Arbor Ridge Apartments. They had a budget in mind, a volunteer group as well as their maintenance men to help with installation, but they needed help sourcing the commercial playground equipment.
APCPLAY helped La Casa select the 'Walnut Ridge' commercial play structure. The playground equipment included on this structure are designed for up to 26 children ages 5 to 12 years old, and includes 9 different activities. These activities include: three different slides at various heights (even a double slide for side-by-side racing), three kinds of climbers to physically challenge the kids, a super-fun Track Ride (like a zip line experience), a fireman's pole, and more. The structure is build with an ADA Transfer Station to allow children with mobility issues to access some of the playground equipment.
La Casa, Inc. is a community-driven multifamily housing developer. They are Elkhart County's premier Community Housing Development organization; they work with individuals and community partners to create opportunity for personal growth, familiy stability, and neighborhood improvement. They also work with low-income families and singles who are looking for a rental that is safe, attractive, and affordable. Arbor Ridge Apartments is one of five communities they operate in the Elkhart and Goshen areas of Indiana.
Thanks to the help of APCPLAY and La Casa, the children of Arbor Ridge can now enjoy the outdoors and their fun new playground. With a little bit of supervision from APCPLAY's installers, the volunteers and staff of Arbor Ridge came together to build a long lasting community attraction.
About APCPLAY
APCPLAY is based in McKinney, a suburb north of Dallas, Texas, and is a nationwide provider and installer of commercial playground equipment. They serve schools, churches, daycare facilities, homeowner associations, municipalities, and apartment communities with high-quality, long-lasting commercial play structures, site furnishings, athletic equipment, and pre-fab shades and shelters, along with turn-key installation.
APCPLAY has over 25 years of experience offering planning services, custom design, and an extensive array of park and playground products. They're committed to top-notch customer service and complete purchase satisfaction.
For general information on APCPLAY, please call 1-888-401-6446 or visit http://www.apcplay.com
For media inquires, contact Marc Parker – Vice President of Marketing and Operations – sm(at)apcplay(dot)com.
Mailing Address: 225 E. Virginia Street, Suite 2, McKinney, Texas 75069.