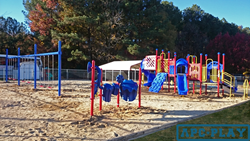 The recently installed Fresno, Flower Mound, and Lexi Nicole playground structures support the center's comprehensive educational philosophy through play.
Durham, North Carolina (PRWEB) February 16, 2016
To improve their play appeal, the Bethesda Baptist Childcare Center enlisted the help of nationwide playground equipment providers APCPLAY with the purchase and installation of a variety of new playground equipment.
The Bethesda Baptist Childcare Center, of Durham, North Carolina, has been the educational extension of the Bethesda Baptist Church since 1964. The Center's approach to preschool education relies on Christian curriculum to develop the minds, bodies, and spirits of their young students. At the heart of this mission lies their aim to lay the foundation of a Christian lifestyle for the children they serve. Their philosophy is to focus on each child's individual needs and learning pace.
The recently installed Fresno, Flower Mound, and Lexi Nicole playground structures support the center's comprehensive educational philosophy through play. In addition to the structures, the center also purchased swing sets and a Music Makers Quartet for installation. All of these products offer unique learning opportunities for students.
The Fresno structure is the largest of the new structures, accommodating up to 32 children at a time between the ages of 2 and 12. With 4 slides, 3 educational activity panels, and 3 different climbers, it's easy to see the learning benefits this equipment will provide during playtime. The U.S. map panel teaches geography concepts, enhances memory, and helps children practice counting. A tic-tac-toe panel that encourages cooperation and socializing among classmates. The other activities provide plenty of physical activity, too, like the cargo net that challenges strength, balance, and spatial awareness.
For the younger age group, the Flower Mound and Lexi Nicole structures provide developmental activities that focus on sensory activities, motor skills, and imaginative play. Kids can role play at the kitchen and storefront panels of the Flower Mound structure, or learn the basics of mechanics and sequence with the gear and maze panels on the Lexi Nicole. The Music Makers Quartet allows the students to experiment with sound and rhythm, too.
APCPLAY's professional operations and installation crew were able to provide an expert end result, and the Bethesda Baptist Childcare Center team expressed satisfaction upon completion of the project. There's no doubt that the students will benefit developmentally, academically, and physically on the new playground equipment and have fun while doing so.
About APCPLAY
APCPLAY is based in McKinney, a suburb north of Dallas, Texas, and is a nationwide provider and installer of commercial playground equipment. They serve schools, churches, daycare facilities, homeowner associations, municipalities, and apartment communities with high-quality, long-lasting commercial play structures, site furnishings, athletic equipment, and pre-fab shades and shelters, along with turn-key installation.
APCPLAY has over 25 years of experience offering planning services, custom design, and an extensive array of park and playground products. They're committed to top-notch customer service and complete purchase satisfaction.
For general information on APCPLAY, please call 1-888-401-6446 or visit http://www.apcplay.com.
For media inquires, contact Marc Parker – Vice President of Marketing and Operations – sm(at)apcplay(dot)com.
Mailing Address: 225 E. Virginia Street, Suite 2, McKinney, Texas 75069.