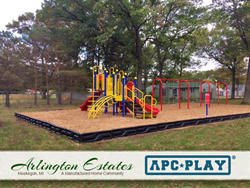 "Everything went great!" - Dave Potter, Arlington Estates Staff
Muskegon, MI (PRWEB) November 25, 2015
The playground specialists at APCPLAY were excited to assist the property management staff at Arlington Estates when they were contacted by the staff. The property management team had decided it was time to give their community a face lift. Together the companies planned to create two playgrounds at different sites in the large manufactured home community.
Arlington Estates is a manufactured home community that serves the eastern region of Muskegon County, Michigan. With three distinct community experiences (East, North, and South sections), the Estates offer something for all types of homeowners. The Arlington East section was the most recent addition to the community. It features the newest homes on spacious lots with well manicured lawns. The Arlington North and South sections were elected as the sites for upgrading the new playground additions. The South section is the original site built in 1968, with the North section being the first addition in 1973. The property management also initiated an update to their properties, including a new clubhouse and fencing.
To refresh the communities' recreational appeal, they purchased new commercial playground equipment through APCPLAY. The management team chose to invest in two "Cherry Valley" play structures, to add a playground to two of their three properties. This structure can house up to 26 children (ages two through twelve) at a time, making it an ideal choice for the residential communities.
The "Cherry Valley" houses an Educational Climber which features numbers and shapes that can help little ones learn while they climb. The structure is also home to three other climbing activities (Deep Rung Arched Climber, Clover Climber, and Vertical Ladder) for maximum physical engagement. There are two slides, the 90° Curve Slide and Wave slide, that add classic playground fun to the structure. Each playground site also includes a three bay Arched Swing Set, and plenty of engineered wood fiber safety surfacing material to protect the community's children from injury.
According to Dave Potter, of the Arlington Estates staff, the property management is happy with their choice to work with APCPLAY and the installation team. With their turn-key services and extremely knowledgeable playground specialists, he says "Everything went great." The manufactured home community will be able to enjoy their new playground equipment for decades to come.
About APCPLAY
APCPLAY is based in McKinney, a suburb north of Dallas, Texas, and is a nationwide provider and installer of commercial playground equipment. They serve schools, churches, daycare facilities, homeowner associations, municipalities, and apartment communities with high-quality, long-lasting commercial play structures, site furnishings, athletic equipment, and pre-fab shades and shelters, along with turn-key installation.
APCPLAY has over 25 years of experience offering planning services, custom design, and an extensive array of park and playground products. They're committed to top-notch customer service and complete purchase satisfaction.
For general information on APCPLAY, please call 1-888-401-6446 or visit http://www.apcplay.com.
For media inquires, contact Marc Parker – Vice President of Marketing and Operations – sm(at)apcplay(dot)com.
Mailing Address: 225 E. Virginia Street, Suite 2, McKinney, Texas 75069.