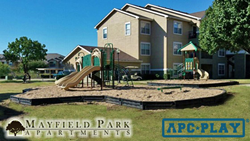 The playground is "working out fantastic," said Charlie Kinnard of the Mayfield Park staff, and "the kids are loving it."
Arlington, Texas (PRWEB) November 24, 2015
APCPLAY facilitated the purchase of two brand new playgrounds for the community of Mayfield Park Apartments, in Arlington, Texas. The installation was completed in late October, just in time for residents to enjoy the Autumn weather.
The Mayfield Park Apartments offer quality community amenities that renters expect at a reasonable price that renters can afford. They pride themselves on their proximity to premier entertainment attractions of the Dallas-Fort Worth Metroplex that are situated right at home in Arlington. Residents enjoy their convenient location near Six Flags, Hurricane Harbor, AT&T Stadium, and the Ballpark at Arlington.
Now, thanks to APCPLAY, the families of Mayfield Park have two brand new entertainment attractions of their very own, all without leaving their apartment community. The property management team purchased the "Tango" and "Mayberry" play structures to create a space where kids of all ages can go to play.
The "Mayberry" commercial play structure is tailored to suit the developmental and safety needs of young children, ages two through five. They can learn through imaginative play with the interactive Dinosaur Panel and Steering Wheel. It is also home to a 90° Curve Slide for classic playground fun, and a Lily Pad Climber that improves balance and fitness. These activities are all under a large plastic roof that provides kids with plenty of shade.
The "Tango" commercial play structure, on the other hand, presents a more challenging course suited for older kids. It also packs a 90° Curved Slide, but includes a Triple Rail Slide for side-by-side races, which promotes socialization. The "Tango" also has three distinct climbing exercises which improve upper- and lower-body strength. Together, both playground structures can accommodate up to thirty-six children at a time.
Charlie Kinnard, of the Mayfield Park staff, noted that the property management was pleased with its experience working with APCPLAY and the installation team. He said the playground is "working out fantastic." As far as the residents' reaction to the new playground area, Kinnard reported that "the kids are loving it."
About APCPLAY
APCPLAY is based in McKinney, a suburb north of Dallas, Texas, and is a nationwide provider and installer of commercial playground equipment. They serve schools, churches, daycare facilities, homeowner associations, municipalities, and apartment communities with high-quality, long-lasting commercial play structures, site furnishings, athletic equipment, and prefabricated shades and shelters, along with turn-key installation.
APCPLAY has over 25 years of experience offering planning services, custom design, and an extensive array of park and playground products. They're committed to top-notch customer service and complete purchase satisfaction.
For general information on APCPLAY, please call 1-888-401-6446 or visit http://www.apcplay.com.
For media inquires, contact Marc Parker – Vice President of Marketing and Operations – sm(at)apcplay(dot)com.
Mailing Address: 225 E. Virginia Street, Suite 2, McKinney, Texas 75069.