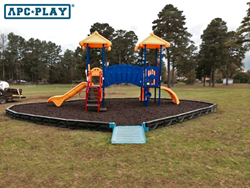 I ca't speak highly enough for everyone involved. - Agency Project Coordinator of CSNT, Inc.
Daingerfield, TX (PRWEB) January 14, 2016
The playground specialists at APCPLAY were contacted by the educational professionals at the Community Services of Northeast Texas, Inc. to improve their Head Start facilities in Daingerfield, Texas. The result? A brand new APCPLAY playground structure is ready for recess at West Elementary School!
The Community Services Head Start program of Daingerfield, Texas prepares young children, ages three through five, for their entrance into kindergarten. The program is operated at the West Elementary school facility. Their services extend beyond educational development, though. The program provides comprehensive assistance for these children and their families for free. Services include health, dental, and social services. The combined efforts of nine Head Start program locations currently reach over five hundred families in the Northeast Texas region.
Community Services of Northeast Texas, Inc. was recently able to replace old, outdated playground equipment at West Elementary School with a brand new London Bridge playground structure from APCPLAY. This structure encourages the healthy development of the program's students through play. The storybook feel of the large, curved bridge in the center of the playground inspires imaginative exploration among young children. Closed railings along the bridge make sure they stay safe from falls. The angled Bedrock Climber encourages physical development, too. At ground-level, children can play pretend with a Post Mounted Steering Wheel or at the Store Front panel. Two parallel Wavy Slides make for an exciting race to the bottom, providing an opportunity for social development. A third Chute Slide ensures that everyone gets a turn.
The Agency Project Coordinator for the Community Services of Northeast Texas was ecstatic with the results that APCPLAY and their installation team were able to provide. The coordinator had a great experience working closely with the APCPLAY team, stating, "I can't speak highly enough for everyone involved." As for the students at West Elementary, the Coordinator said, "The children have just been thrilled with it. They're loving it!"
About APCPLAY
APCPLAY is based in McKinney, a suburb north of Dallas, Texas, and is a nationwide provider and installer of commercial playground equipment. They serve schools, churches, daycare facilities, homeowner associations, municipalities, and apartment communities with high-quality, long-lasting commercial play structures, site furnishings, athletic equipment, and pre-fab shades and shelters, along with turn-key installation.
APCPLAY has over 25 years of experience offering planning services, custom design, and an extensive array of park and playground products. They're committed to top-notch customer service and complete purchase satisfaction.
For general information on APCPLAY, please call 1-888-401-6446 or visit http://www.apcplay.com.
For media inquires, contact Marc Parker – Vice President of Marketing and Operations – sm(at)apcplay(dot)com.
Mailing Address: 225 E. Virginia Street, Suite 2, McKinney, Texas 75069.