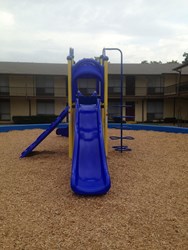 Irving, TX (PRWEB) August 30, 2013
As summer comes to a close and the children of the Embassy Delujo apartment community head back to school, they might be a little distracted in their new classrooms. Just inside the multi-family community in Irving Texas sits brand new playground equipment.
Embassy Delujo recently purchased a new commercial play structure named Santa Fe from American Parks Company, a McKinney, Texas based business. The new equipment is designed for children ages 5-12 and accommodate up to 20 children at any one time.
About American Parks Company
American Parks Company is a McKinney, Texas based company that provides commercial grade park and playground equipment primarily to municipalities, city parks, schools, churches, daycare facilities, and homeowner associations. Since 2004, American Parks Company has consistently provided high quality play structures at extremely affordable prices. American Parks Company is an industry leader in both the national sales and installation of commercial playground equipment. For general information on American Parks Company, please call 1-800-381-4491 or visit http://www.AmericanParksCompany.com. For media inquires, contact Marc Parker – Vice President of Marketing - sm(at)americanparkscompany(dot)com. Corporate Address: 225 E. Virginia Street McKinney, Texas 75069.