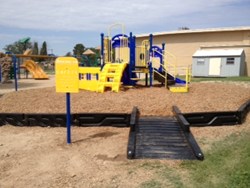 Big Lake, Texas (PRWEB) August 07, 2013
As the children of Concho Valley Head Start in Big Lake, Texas head back to school this year, new playground equipment will be ready to greet them.
A brand new and very colorful commercial play structure was recently installed over the summer break. The new structure, named Flower Mound, adds new options for both cognitive and physical play. The new addition offers a variety of fun activities such as a double bedway slide, an arched climber, and several panels designed specifically for creative play. The structure and site are both ADA accessible.
About Concho Valley Head Start
The mission of the Concho Valley Council of Governments Head Start and Early Head Start Program is to provide comprehensive services to children and families, to nurture, to educate, to believe in each other, to wisely use our talents to help others and to touch the future forever.
Our Vision:
We are committed to maintaining a quality program, productive partnerships, and to design and evaluate program systems to assure we are responsive to the needs of our children and families.
Our Values:
We believe healthy children are better prepared to learn.
We believe in empowering parents helping them to become self-sufficient.
We believe in the cultural diversity of the children and families we serve.
We believe in collaborating with local community agencies interested in the well-being of Head Start enrolled children and families.
We believe in providing comprehensive services to children and families.
We believe in providing positive leadership to our staff supporting them in providing quality services. source:cvcog.org
About American Parks Company
American Parks Company is a McKinney Texas based company that provides commercial grade park and playground equipment primarily to municipalities, city parks, schools, churches, daycare facilities, and homeowner associations. Since 2004, American Parks Company has consistently provided high quality play structures at extremely affordable prices. American Parks Company is an industry leader in both the national sales and installation of commercial playground equipment. For general information on American Parks Company, please call 1-800-381-4491 or visit http://www.AmericanParksCompany.com. For media inquires, contact Marc Parker – Vice President of Marketing - sm(at)americanparkscompany(dot)com. Corporate Address: 225 E. Virginia Street McKinney, Texas 75069.