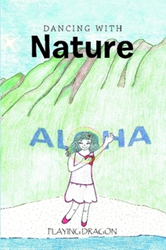 AIEA, Hawaii (PRWEB) October 02, 2015
As a social worker, author Playing Dragon noticed many of her clients seemed at ease in a natural setting surrounded by flowers, trees and other plants. Thinking of this, she wanted to create a book that could speak to children that were experiencing divorce and other issues and show how nature could help to soothe difficult times. Her new children's book, "Dancing With Nature" (published by Lulu), tells the story of a little girl struggling with the separation of her parents.
Set in Hawaii, the story is told from the perspective of a little girl whose parents have divorced. Left to see her mother only for short visits, the girl often cries herself to sleep. Her father marries another woman, and the little girl must come to terms with her stepmother. One day after the little girl's mother argues with the stepmother, the mother seems to disappear. Unable to find her mother, the girl feels all alone. She turns to the natural world around her for comfort and to remind herself she is never alone when surrounded by the Earth's beauty.
"Children experience many emotional states when their family is being separated and the feelings portrayed are real," Playing Dragon says. "I think this book speaks the truth and reality that children can relate to."
Playing Dragon hopes her book will help children to understand that there are others who can relate to the problems they face. She hopes readers will be inspired to explore nature as a means to cope with life's difficulties.
"Dancing With Nature"
By Playing Dragon
Softcover | 6 x 9 in | 32 pages | ISBN 9781483433431
E-Book | 32 pages | ISBN 9781483433424
About the Author
Playing Dragon uplifts people's spirits through flowers and social work. She finds joy in learning new cultures, folk dances, medicinal plants and Ikebana. She promotes peace and nonviolence through education and gardens. She thrives on the island of Oahu with her family and friends, where she dances and cares for people and flowers.
Lulu empowers people of all ages to explore and express their interests, passions and expertise through books, photography and art. Since introducing self-publishing in 2002, Lulu has empowered creators in more than 225 countries and territories to produce nearly two million publications. Lulu Jr. allows children to become published authors, encouraging creativity, strengthening literacy and building self-esteem. Picture.com offers professional photography of collegiate and professional sports, memorable and historic events, fine art and home décor. For more information, please visit lulu.com.