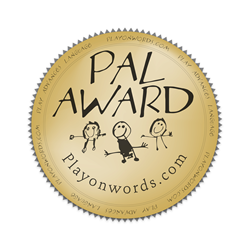 Southport, CT (PRWEB) October 27, 2015
Play On Words LLC, led by highly respected speech language pathologist Sherry Artemenko, announces 2015's Fall PAL Award Winners, the toy industry's only recognition directed by a credentialed speech-language expert recognizing the language learning edge in exceptional toys, games and books. Sherry's 35 years of child development experience with over 15,000 hours working with kids empower her PAL selections, video reviews, popular blog, media appearances, private therapy and consulting practice.
"Brands and buyers alike understand the PAL difference ... how my working with children, engagement in the classroom and consulting teachers yield rich play insights. Last week a third grade teacher and I were discussing the importance of creating stories aligned with her class' reading and writing curriculum. Knowing and processing story elements effectively (characters, settings, plots) is essential to the foundations of literacy. Inventive fun with toys such as Build and Imagine's PAL winner Fairy Tale Theater,Crayola Easy Animation Studio and Disney Imagicademy Storymation Studio by Wonder Forge can reinforce and magnify the impact of stories, similar to what other winners do for collaborative problem solving, deductive reasoning, acquiring core vocabulary and building STEM skills. Whether intentionally developed or serendipitously present, I call out the unique language learning features in our winners' toys and games."
Below we proudly present our Fall 2015 Play Advances Language (PAL) Award Winners by language learning category.
EARLY DEVELOPMENT: Sherry's daily experience in pediatric speech therapy gives her an eye for the best products to build attention, vocabulary and concepts through play, preparing children for their first sounds, words and sentences. While tending to a baby doll who talks back and invites conversation, riding an alphabet train filled with letter blocks, or tooting and banging on a One Man Band, kids learn essential early language skills.

Ambi's Fishing Boat by Galt Toys
Ambi's One Man Band by Galt Toys
Baby Amaze Learn to Talk and Read Baby Doll by VTech
Early Years Farm Friends Pop-it Beads by International Playthings
ELC Toybox Pull Along Zebra by International Playthings
Go! Go! Smart Animals Grow and Learn Farm by VTech
Ideal Who Lives Where? by Alex Brands
Jungle Fun Activity Cart by Alex Toys
Ready, Set, Shapes! by Alex Toys
Sit-to-Stand Ultimate Alphabet Train by VTech
LANGUAGE STRUCTURE AND REASONING: These outstanding products can build language syntax and reasoning, often teaching vocabulary, concepts or grammar while delivering fun. Searching for hidden objects through five historic time periods tapping association and category skills, developing a new Batman episode using open ended illustrated cubes, or reading an adventure through Shapeville and Count Town all strengthen communication.

Journey Through Time Eye Found It! Game by Wonder Forge
Max's Math by Kate Banks
Pictopia: Star Wars Edition by Wonder Forge
Rally Up! by Blue Orange Games
Rory's Story Cubes: Batman by The Creativity Hub Ltd.
Rory's Story Cubes: Moomins by The Creativity Hub Ltd.
Spot it! Disney Frozen Olaf by Blue Orange Games
Trio by Hape
(PRE)READING: Bid a letter to make new word chains, quickly match words and images to learn common sight words, or read a tender primer about friendship to strengthen reading skills.

Alex Toys My Alphabet Puzzle
Ally-saurus and the First Day of School by Richard Torrey
Bid-A-Letter by SimplyFun
Disney Imagicademy Mickey Mouse Animals Activity Book by Wonder Forge
Mochu Says Goodnight by Kadho Inc.
Pass the Rooby Roo! by SimplyFun
Super Genius - Reading 1 by Blue Orange Games
The Cowboy by Muller
The Not Very Merry Pout-Pout Fish by Diesen and Hanna
STORY-TELLING / PRETEND PLAY: Whether building your own Fairytale with illustrated story walls, taking a journey on the prairie in your covered wagon or producing your own animated movie, children enter the world of pretend, creating their own stories with plenty of flexible props to guide their imagination. Oral story-telling precedes writing as kids learn the steps to create a good narrative.

Crayola Color Wonder Light Up Stamper
Crayola Easy Animation Studio
Disney Imagicademy Storymation Studio by Wonder Forge
Fairytale Theater by Build and Imagine
French Cocotte Trolley Cooker by Janod
Kids First Automobile Engineer by Thames and Kosmos
Little House on the Prairie 18″ Doll Covered Wagon by The Queens' Treasures
Puzzlets by Digital Dream Labs
Smart Max Click and Roll by Smart Toys and Games
SOCIAL LANGUAGE: Complementary to pretend play, social language blossoms when children play with toys that encourage extended social interactions. Negotiating teamwork to avoid a laser strike, producing music on a giant step piano, or dressing up in disguises promote social language skills.

Crayola Crayon Carver
Disney MiIes from Tomorrowland Rockin' Rocket Game by Wonder Forge
Gigantic Step and Play Piano by Alex Toys
Peanuts Snoopy Flying Ace Game by Wonder Forge
Star Wars: The Force Awakens Star Destroyer Strike Game by Wonder Forge
Unbored Disguises by MindWare
Congratulations to our PAL Winners who are listening to their markets and delivering a powerful value proposition, namely, great language learning paired with play.
Visit the Play On Words Website to see all our PAL Award winners.
Each year billions are spent on kids' toys, games and books. These PAL winners above are not only great fun, but also encourage rich language development. Think "tastes like ice cream, fortifies like spinach," optimizing your toy purchases to build language while maintaining every bit of fun. Now's the time to be intentional about your child's toy chest, game drawer and bookshelf!
ABOUT PLAYONWORDS, LLC
Playonwords.com was founded by well-respected speech-language pathologist, Sherry Artemenko. Her 35 years championing language rich play, esteemed PAL Award, popular blog, and insightful tips to parents set her apart as the leading advocate of the language component in toys.
Over 15,000 hours working directly with children has shown her that a unique set of the best toys, games and books have the capability to develop language while delivering great play. Studies show:

Kids with highest IQs at three, had the most words at one and two
Language learning is cumulative – early words => early sentences => language and reading
Most kids maintain their verbal advantage through childhood
Sherry established the PAL Award to identify unique toys, games and books that through their design, quality and character, encourage play that advances language. PAL winners in the hands of kids, spark fun and creative play with lots of talk. Such toys, recognized on the basis of her child development expertise, are complemented by practical coaching in her blog, showing parents and caregivers how to get the most from toys, games and books to build language and underlying cognitive skills.