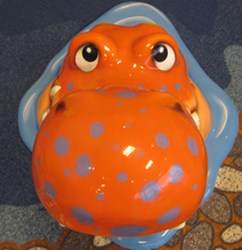 It really helps parents get their kids to the dentist because they have such a good time.
Aurora, CO (PRWEB) September 17, 2013
With its newest clinic open in Aurora, CO, Adventure Dental, Vision and Orthodontics continues to expand its reach and its unique character-driven brand.
"We designed the clinic to make sure that we could have a play area," says Janelle Shumaker, Director of Marketing. "We also made sure that the dental play area would be away from the front desk and from the front windows. It takes a lot of consideration."
All of the Adventure Dental play areas were created, manufactured and installed by PLAYTIME, LLC. The custom play elements include Cavity Wizard, Plaque Ogre, Sugar Bugs, Captain Smiles, Twinkle the Tooth Fairy, Friar Floss, a sea serpent with braces named Bracket and a dragon with glasses named Spex.
"The Aurora play area includes a castle with a slide; Bracket, our orthodontic sea serpent; and Spex, our vision dragon," says Shumaker, who is also Director of Community Outreach. "We also installed PLAYTIME's padded flooring, making the entire play area very soft and safe."
PLAYTIME is the global provider of unique indoor, outdoor and water play areas and playground equipment.
"Working with PLAYTIME has been a neat experience," says Joe Lee, Adventure Dental's Director of Development and Technology. "Their creative team has helped transform our plain waiting area into a bright and colorful fun zone for kids! PLAYTIME offers a rugged and durable product that can be considered an investment to anyone's business."
Todd Kreinbrink, PLAYTIME Healthcare Specialist, says, "Adventure Dental challenged us to create something completely unique for them. We loved the creative process."
Shumaker says that the play areas are a company-wide priority because they "set us apart from other dental practices," making it easier for parents to get their kids to the dentist. But she says that the play areas help office staff and parents communicate better, too.
"The play areas give parents a chance to sit down and fill out paperwork while their child is distracted," says Shumaker, adding, "We've had parents who stay and let their children play after the cleaning is over. It really helps parents get their kids to the dentist because they have such a good time."
In addition to the play areas, Adventure Dental developed a commercial that features Captain Smiles rapping about good dental health. Shumaker says that parents use the commercial's song to encourage their children to brush their teeth.
"In the end, everything we do helps children to develop healthy, lifelong dental practices," says Shumaker.
Kreinbrink says, "This partnership proves that you do not have to have a big budget or a ton of space to have a really cool play area. This is a great business investment for Adventure Dental and it will have a really high return for them."