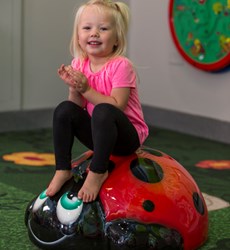 Our members consistently ask us to support their children's health and activities. The play area was a perfect way for us to achieve this goal.
Fargo, ND (PRWEB) October 08, 2013
In 2012, Blue Cross Blue Shield of North Dakota (BCBSND) officially dubbed itself "The Official Sponsor of Recess™." As such, BCBSND is sponsoring projects and programs that inspire activity – and active play – across North Dakota. Most recently, the member-owned health organization sponsored a new indoor play area at West Acres Regional Shopping Center.
"As the Official Sponsor of Recess, we want to help people stay active year-round," says Denise Kolpack, Chief of Staff for BCBSND. "But in a cold state, how do we do that? Sponsoring the PLAYTIME play area at West Acres Shopping Center was the perfect solution."
She adds, "Why sponsor a mall play area? Because people have to start somewhere on their journey to get healthier and we don't want it to be intimidating."
Called "Recess West," the new play area was designed, manufactured and installed by PLAYTIME, LLC, a commercial playground manufacturer and the global provider of unique, interactive, soft play areas and playground equipment for indoor, outdoor and water play.
Alissa Sorum, Marketing Director for West Acres, says the new play area is wildly popular and the shopping center is thrilled to partner with BCBSND to bring healthy play options to the community.
"When it came time to update our play area, we went to our customers via Facebook for feedback on what they wanted to see in the new space," says Sorum. "We learned that they wanted smaller elements, more light and an overall fresher feel. Our play area is in a unique, in-line space, and we wanted to make it feel brighter and more open. The great elements, coupled with the mural and new lights, created a fun and inviting space for parents and kids alike."
Both West Acres and BCBSND worked with PLAYTIME to arrive at a design.
"PLAYTIME did a fantastic job," says Sorum. "It was fun to watch the design process flow. It started with an initial sketch by Flint Communication for BCBSND, and PLAYTIME made it come to life with bright, park-themed elements."
As part of the new mall playground, the team installed a television monitor on which BCBSND runs its "Recess YES!" video, which was included as part of a kit that the organization sent to 4,600 elementary school teachers across the state. Sorum says that she often sees children dancing in the play area as they listen to the video.
While play is fun and the play area is a cheery, active place, Kolpack says it's actually helping BCBSND take aim at a very serious concern in North Dakota.
"In our state, 35% of children between the ages of 10 and 17 are considered obese," she says. "Our members consistently ask us to support their children's health and activities. The play area was a perfect way for us to achieve this goal."
Photo credit: Scott Thuen, Thuen Studios.