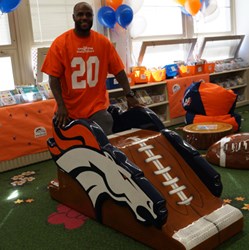 Active-play experiences play an important role in the long-term physical and emotional development of children.
Denver, CO (PRWEB) September 25, 2013
Mile High United Way and the Denver Broncos Organization unveiled a Broncos-themed Play and Read Room at Greenlee Elementary School last week. All of the soft play elements in the room were custom designed, manufactured and installed by PLAYTIME, LLC.
Mile High United Way and the Denver Broncos partnered to build the Play and Read Room at Greenlee Elementary School as part of an ongoing commitment to serve Hispanic fans, youth, families and communities. The room also promotes early literacy opportunities for underserved children as well as the National Football League's (NFL) Play 60 initiative.
"A child's imagination has unlimited potential when creative learning opportunities are provided at an early age," said Mike Evans, founder and CEO of PLAYTIME, LLC. "When the Denver Broncos and the NFL's Play 60 initiative teamed up with Mile High United Way, we knew the community would be well-served by delivering on this message - showcasing what's possible while encouraging exercise-through-play within a learning environment. As a long-time United Way supporter, we were enthusiastically prepared to help them create this worthwhile project."
Denver Public Schools' Greenlee Elementary was selected as the location for the new Play and Read Room because of its location in a traditionally underserved, inner-city neighborhood in great need of this type of service.
"With an 80 percent Hispanic population and 95 percent of students eligible for free or reduced lunch services, Greenlee Elementary was an ideal candidate for this amazing project," said Christine Benero, President and CEO of Mile High United Way. "Increasing a child's vocabulary and school readiness before and during kindergarten is a key factor in achieving grade-level reading ability by third grade and Greenlee's new Play and Read Room will impact thousands of students in the years to come."
Cindy Kellogg, Vice President of Community Development for the Denver Broncos Football Club, added, "The Denver Broncos, together with the NFL, are proud to celebrate Hispanic Heritage Month in such a meaningful, long-term, high-impact way. Joining longtime partners, Mile High United Way and Denver Public Schools, we are thrilled to leave behind a newly refurbished area for both reading and playing as a gift for the students at Greenlee Elementary."
Thanks to the grant provided by the NFL and a matching donation from the Denver Broncos Organization, every student at Greenlee Elementary School also received a $7.00 Reading Certificate, which they were able to use at the Scholastic Read and Rise® Book Fair held as part of the unveiling event.
PLAYTIME's Evans added, "Active-play experiences play an important role in the long-term physical and emotional development of children."
###
About PLAYTIME, LLC
PLAYTIME is the global provider of unique, interactive indoor, outdoor and water play areas and playground equipment. Family-friendly businesses that want to stand out hire PLAYTIME to create powerful play experiences. PLAYTIME'S commercial playground equipment and themed soft play areas are designed to engage children, drive traffic and enhance customers' brands. Thousands of families experience PLAYTIME every day at shopping centers, malls, restaurants, airports, stadiums, childcare, healthcare centers, fitness centers, churches, resorts, recreation centers, water parks and museums – any place that kids and toddlers play.
About NFL PLAY 60
In October 2007, the NFL launched NFL PLAY 60, a national youth health and fitness campaign focused on increasing the wellness of young fans by encouraging them to be active for at least 60 minutes a day. Designed to tackle childhood obesity, NFL PLAY 60 brings together the NFL's long-standing commitment to health and fitness with an impressive roster of partner organizations. In addition to national outreach and online programs, NFL PLAY 60 is implemented at the grassroots level through NFL's in-school, after-school and team-based programs. The NFL PLAY 60 initiative is prominent during the NFL's key calendar events, including Super Bowl, Pro Bowl, Draft, Kickoff and Thanksgiving and is supported by many NFL players and coaches year round. To date, the NFL has dedicated over $250 million to youth health and wellness through NFL PLAY 60 and currently has programs in more than 73,000 schools.
About the NFL & United Way Partnership
This year marks the 40th anniversary of the partnership between the National Football League and United Way. Across the country, NFL clubs and players are working with United Ways to advance health and education for America's young people through national and local initiatives like the annual NFL & United Way Hometown Huddle and United Way TEAM NFL. The work is in support of United Way's 2018 goals to get 1.9 million more kids active and healthy and to cut the high school dropout rate in half by 2018.
About United Way
Combining the collective strength of more than 40,000 donors, 800 local businesses, over 100 non-profit partners, and local and state government, Mile High United Way has been leading the movement for positive change for 125 years. Mile High United Way unites people, ideas and resources to advance the common good and concentrates on helping people of all ages, in every stage of their lives, through three interconnected areas of change: School Readiness, Youth Success and Adult Self-Sufficiency. For more information, visit http://www.UnitedWayDenver.org. For more information on the SIF grant, visit http://www.UnitedWayDenver.org/SchoolReadiness.